Case study
Shaun – Without St Wilfrid's Centre I wouldn't be alive today
From:

Part of:

Published:

16 April 2013
How a vulnerable adult found security and independence with help from St Wilfrid's Centre.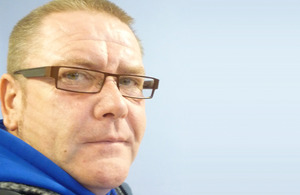 A victim of abuse since an early age, Shaun plucked up the courage to get help from St Wilfrid's Centre. Now Shaun's confidence is starting to grow.
Shaun's story
Shaun was abused as a child by his parents and bullied at school. He remembered his dad hitting him for no reason with anything he could lay his hands on. If Shaun ever had any money his parents would take it away from him. He left home to get married as soon as he could. He thought that he had escaped the abuse. Shaun explains, "Everything was great for a while, then I developed mental health issues. My wife started to bully me and the pattern began again."
Lonely and isolated
With no money and no support, Shaun spent his days sitting in the local cemetery only returning home at night. As Shaun's health deteriorated his wife threatened to throw him out on the streets. Feeling he had nowhere to go and would soon be homeless he built up the courage to ask for help.
St Wilfrid's Centre
"It took me half an hour just to build up the courage to knock on the door of the St Wilfrid's Centre. I didn't think anyone would believe me or want to help me," says Shaun. Shaun received a warm welcome and was encouraged to talk about his issues and received advice about how to turn his life around. During his visits to the centre, Shaun discovered his wife and son had racked up crippling debts in his name which prevented him from getting a home. "St Wilfrid's arranged for me to see someone from Turning Point to secure a place at the hostel. Knowing I would be away from the abuse made such a difference," says Shaun.
Confidence grows
Shaun continued to attend the centre and his confidence grew as he learned the skills to look after himself and eventually he was ready to leave the hostel and live on his own. "The centre's great, no-one judges you here. Everyone is a family supporting you through hard times and celebrating the good times. When my son broke into my new home and stole all my money, staff helped me to report it to the police and they also helped me to feel safe in my own home again. Without the centre I wouldn't be alive today."