Case study
Ensuring the UK's aircraft carriers maintain strike ability
Dstl's analysis has shaped the Fleet Solid Support – the ships and cargo that will restock the aircraft carriers at sea during operations.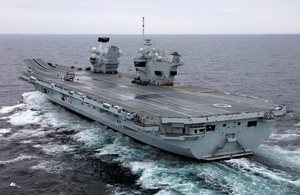 During high-intensity operations, the UK's new aircraft carriers and F-35 strike jets will rapidly consume the on-board stocks. It is critical that ammunition and other solid supplies can be replenished at sea to sustain the aircraft carriers during operations.
Fleet Solid Support (FSS) will include new vessels to allow the UK to conduct sustained carrier operations worldwide. Dstl's Defence and Security Analysis Division, working with six companies and the Met Office, conducted analysis to define and mature the requirements for these vessels, and helped determine how the ships will operate efficiently and reduce risk.
Our analysis has:
determined the FSS cargo – more than 5 million items and nearly £1 billion of inventory per ship
simulated how the stock could be transferred to the aircraft carrier at sea, enabling decisions on the replenishment technology
supported the FSS speed requirement
tested and helped improve the ship designs
Commander Paul Murphy, from Navy Command Headquarters' Maritime Capability, said:
The quality of the analysis in this work and the clarity of the findings were of a very high calibre. DSA's findings and graphics were used in a submission from the Second Sea Lord and Chief of Materiel (Fleet) to the Deputy Chief of the Defence Staff for Military Capability. This analysis has expanded Defence's understanding of the logistical implications of supporting carrier strike.
Paul Vooght, FSS Project Manager at Defence Equipment and Support, added:
We are reliant upon the expertise of Dstl to develop the fundamental operational analysis that will shape the unique ship requirements.
In addition, Dstl conducted rapid analysis to support wider defence resource planning, including the National Ship Building Strategy. Dstl support will continue throughout industry engagement to help FSS achieve the best capability for defence and value for money for the UK.
Working with others
This work was done in partnership with:
BAE Systems
Diemanalytics
Frazer-Nash Consultancy
Met Office
Polaris
Roke
SCL
Published 11 January 2018