Case study
Darren – With support you can change your life
From:

Part of:

Published:

16 April 2013
How St Wilfrid's Centre helped an alcoholic to recover and set up a support group for people suffering from mental health issues.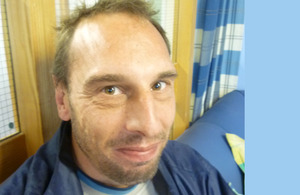 Darren's dad was an alcoholic. Growing up, Darren had mental health issues. Following his father's death, he turned to alcohol and began to self-harm. Darren's social worker recommended contacting St Wilfrid's Centre for help.
Darren's story
Darren's dad had been an alcoholic for as long as he could remember. As Darren grew up he suffered with mental health issues and, wanting to block out his life, he followed in his father's footsteps, turned to alcohol.
Three years ago, Darren's dad died from alcohol-related issues. Darren knew something had to change but didn't know where to turn for help.
He started to self harm, stopped going out or looking after himself. He didn't want to go on.
"I knew something had to change. I wasn't living, I was just existing" says Darren.
Getting help
He visited centres specialising in mental health issues but quickly realised many of the clients were using drugs or alcohol. Knowing he had to make a clean break if he wanted to stop drinking he asked his social worker for help. His social worker recommended the St Wilfrid's Centre.
Independent living
St Wilfrid's Centre offers support and social care for vulnerable people in Sheffield and across South Yorkshire. They provide a supportive, caring environment to help socially excluded people to overcome barriers. Through their tailored education programme and skills workshop, they help many people to move closer to independent living and work.
When Darren first arrived at St Wilfrid's, he was living on a diet of crisps and cold sandwiches, unaware of how to cook a meal or practise basic life skills.
"Since coming to the centre I've learnt how to look after myself. Just the normal things people take for granted. I can cook a healthy meal for myself, chicken and vegetables or homemade pizza from scratch. I'm eating healthily and no longer drink. Things are getting better," explains Darren.
Supporting others
Having been helped by St Wilfrid's, Darren wanted to support others and has now helped to set up a support group for people suffering from mental health issues where he lives. He's also applied for lottery funding – something he couldn't have dreamed of three years ago.
"I wanted to help others; life is more than just existing and everyone deserves more. With support you can change your life but, you need to do it, no-one else can do it for you," said Darren.
About St Wilfrid's Centre
Kevin Bradley, Director of St Wilfrid's Centre – At St Wilfrid's we see the person and we help them to see they have something of value to offer.
St Wilfrid's helps to give vulnerable people in Sheffield a sense of belonging. The Centre brings together the homeless, vulnerable and socially excluded and helps them move closer to a bright future.