Dstl Synthetic Environment Tower of Excellence (SE Tower)
The SE Tower enables the Ministry of Defence (MOD), industry and academia to work together on future areas of research for mutual benefit.
What is the SE Tower?
The aim of the SE Tower is to develop UK defence capability that underpins the use of simulation and synthetic environments (SEs). The uses include joint and coalition training, experimentation, acquisition and evaluation. It is managed as part of the Defence Science and Technology Laboratory (Dstl) training research programme.
Objectives and benefits
The SE Tower's objectives are to:
bring together organisations with experience in modelling and simulation (M&S) and SEs to conduct research relevant to these areas
enable the MOD supplier base to better understand current and future MOD research needs relevant to the development and exploitation of simulation and SE technologies
achieve cost effective external engagement with industry primes, small medium enterprises (SMEs) and academia, in the delivery of MOD research
achieve a responsive and flexible process to deliver MOD's research needs
help develop the MOD supplier base to position itself strategically to meet MOD's future needs
By working with the SE Tower, suppliers will:
improve understanding of future defence challenges and customer needs
better align private venture investments relevant to the development and exploitation of simulation and SEs for defence applications
have greater opportunities for supplier team building, bringing together organisations to conduct research.
collectively grow capability through awareness of (access to) SE Tower research outputs
SE Tower Community of Practice
The SE Tower Community of Practice (COP) provides a way to increase the mutual understanding and co-operation between MOD and the supplier base. It seeks to encourage and enable members to collaborate in research and exploitation activities for UK defence purposes, independent of contracted research.
More details on the COP can be found in the SE Tower membership statement (MS Word Document, 34.7KB)
How to join
Please complete the SE Tower membership questionnaire (MS Word Document, 22.5KB) and send to dstlsetower@dstl.gov.uk
Useful downloads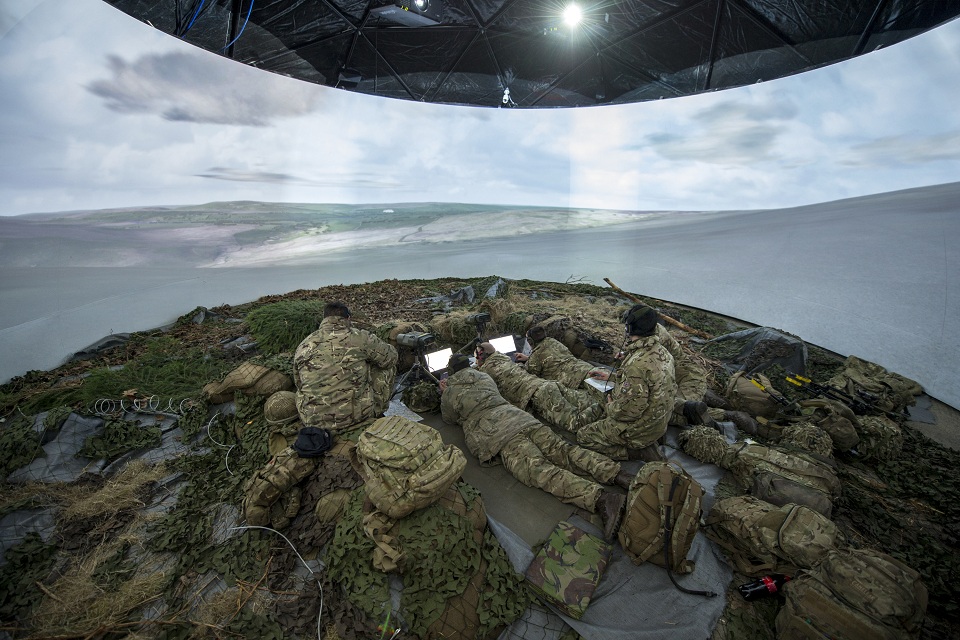 SE Tower research
The SE Tower develops the technical maturity of simulation concepts against three key focus areas, called technical columns (TCs). Each TC is led by a Dstl technical partner and supported by a team drawn from industry and academia.
TC1 researches and develops more agile, interoperable, supportable and cost-effective simulations and Synthetic Environments through the adoption of common open architectures. This includes the integration of live, virtual and constructive (LVC) simulations, and command, control, communications, computers, intelligence (C4I) systems. TC1's activities are primarily delivered through the Architectures, Interoperability and Management of Simulations (AIMS) contract and also the C2-Simulation Interoperability (C2-Sim) contract.

TC2 researches and develops a coherent and consistent synthetic representation of the operating environment for effective defence capability. This includes development of cost effective approaches to the re-use of common content. TC2's activities form part of the simulation, composition and representation of natural and physical environments (SCORE) contract.

TC3 explores the potential use of commercial off-the-shelf (COTS) and emerging technologies to reduce costs, enable rapid prototyping, increase operational and force agility, and reduce environmental impact relevant to preparing for defence operations including training, education and experimentation. TC3's activities form part of the COTS and emerging technology, evaluation and exploitation (CETEE) contract: www.cetee.org.
A 'technical beam' conducts activities which straddle more than one TC. This enables concept development and experimentation, which in turn informs capability decisions and requirements. The technical beam also influences Joint Force training, experimentation, mission preparation, and the defence exercise programme.
Newsletters
The SE Tower publishes a quarterly newsletter. You can read recent editions below.
Contact us
If you would like further information about the SE Tower, please email the SE Tower secretary at dstlsetower@dstl.gov.uk.
Published 4 November 2015
Last updated 22 May 2018
+ show all updates
April 2018 newsletter added

October 2017 newsletter added

July 2017 newsletter added

Joining details added

April 2017 newsletter added

CoP applications now closed

January SE tower newsletter added

COP memberships now open.

Updated information under How to join, re application process for the Community of Practice.

First published.