World location
UK and El Salvador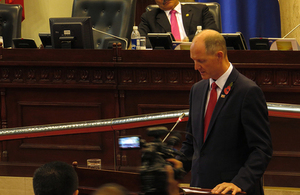 Today's ceremony is an opportunity for El Salvador and the United Kingdom to renew a friendship that was started a long time ago.
Our mission
We improve the important and longstanding relationship between the UK and El Salvador, concentrating on prosperity and security. We deal with a wide range of political, commercial, security, human rights, environmental and economic issues of relevance to the UK and El Salvador. We also manage the UK's relationship with SICA, the Central American Integration System.
Documents
Organisations
Foreign & Commonwealth Office
We develop and maintain relations between the UK and El Salvador.
British Embassy San Salvador