World location
UK and Congo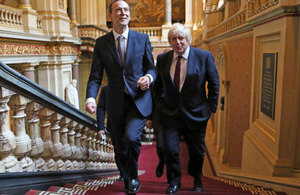 Boris Johnson is the new Foreign Secretary following Theresa May's appointment as Prime Minister.
Our mission
The UK supports a stable and prosperous Republic of Congo, with legitimate state institutions that serve its citizens and which sees sustainable economic growth leading to improved health, education and living conditions for all Congolese citizens.
Documents
Organisations
Foreign & Commonwealth Office
We develop and maintain relations between the UK and both Democratic Republic of Congo and Republic of Congo.
British Embassy Kinshasa
83, Avenue Roi Baudoin
Gombe
Kinshasa
Democratic Republic of Congo
Email ambassade.britannique@fco.gov.uk
Enquiries Telephone +243 81 556 6200 If the Embassy number is not available please use +44 1908 516 666
Enquiries Fax +243 81 346 4291
Consular assistance (24 hour) +243 81 556 6200
Email Kinshasa.consular@fco.gov.uk
Access and opening times