Ubicación en el mundo
Reino Unido y Colombia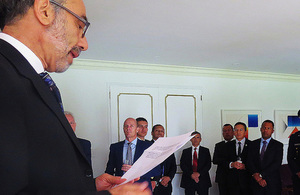 Encuentre aquí los discursos de nuestros funcionarios organizados cronológicamente.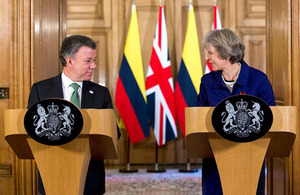 Declaración de la Primer Ministra Theresa May sobre la Visita de Estado al Reino Unido por parte del presidente de Colombia Juan Manuel Santos.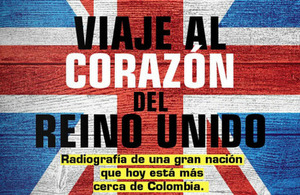 Como preámbulo a la histórica Visita de Estado del 1 al 3 de noviembre la Embajada Británica y la Revista Semana unieron esfuerzos para producir un...
Nuestra misión
La Embajada Británica en Bogotá es responsable por el desarrollo y mantenimiento de las relaciones entre el Reino Unido y Colombia. La Embajada promueve los intereses del Reino Unido en temas políticos, comerciales y de seguridad. La Embajada ha ampliado su trabajo para promover las prioridades e identificar oportunidades para negocios con el Reino Unido en nuevas áreas de trabajo como infraestructura, ciencia e innovación, educación superior, entre otras.
Documentos
Organizaciones
Foreign & Commonwealth Office
Trabajamos para establecer una relación más amplia y profunda con Colombia con vínculos más fuertes tanto a nivel bilateral como multilateral.
British Consulate, Bogota
Cra 9 No. 76 - 49 piso 9
Bogota
Colombia
Opening hours: Monday, Tuesday, Thursday, Friday 9:00am – 12:30pm
Closed on Wednesdays.
All customers must book an appointment in advance.

(Outside of normal Embassy operating hours our switchboard will direct you to the appropriate out-of-hours number).
Department for International Trade
La oficina de Comercio e Inversión (Department for International Trade (DIT) por sus siglas en inglés) ayuda a compañías británicas a ser exitosas en la economía mundial. También ayuda a las empresas extranjeras a aportar su alta calidad de inversión a la dinámica economía del Reino Unido.
Department for International Trade Colombia
British Embassy
Carrera 9 # 76-49 (8th Floor)

Bogota
Colombia