UN Human Rights Council 39: UK Introductory Statement on Syria
The UK presented a draft resolution on the human rights situation in Syria and called on all Council members to support the text.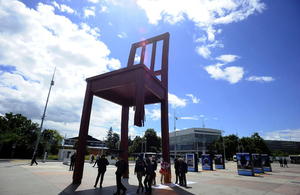 Thank you Mr President,
The UK has to the honour to present draft resolution L.20 on the human rights situation in the Syrian Arab Republic on behalf of a group of states: France, Germany, Italy, Jordan, Kuwait, Morocco, the Kingdom of the Netherlands, Qatar, Turkey and the United Kingdom.
Mr President, the situation of human rights in Syria remains of grave concern. Since the council last adopted a text on this situation in July there have been further attacks against civilians, civilian infrastrucutre and medical facilities, particularly in the North West of the country. Death notices have been issued for individuals detained by the Syrian authorities; and the so called Islamic State in Iraq and Levant has taken hostages in the Al Suweida area of Southern Syria.
In updating this resolution we have sought to once again reflect these recent developments on the ground, as well incorporating key findings from the Commission of Inquiry on Syria on the issue of Internally Displaced People and the use of chemical weapons. We have strengthened the language related to sexual and gender based violence, and made further efforts to present a balanced text that addresses the key concerns raised by delegations during the informal negotiation process.
It is imperative to maintain a spotlight on the broad range of human rights violations and abuses that continue to be committed across Syria. Once again we would like to thank all those member states who participated constructively in the negotiation process.
We are encouraged by the memorandum signed between Turkey and the Russian Federation on the stabilisation of the situation in Idlib de-escalation area, and hope that – for the sake of the over 3 million citizens living there – that this agreement leads to genuine, sustainable de-escalation.
A political solution remains the only credible answer to the situation across the country, and we fully support Special Envoy Staffan de Mistura in his efforts to find such a solution.
Mr President,
The changes we have made should allow this text to finally be adopted without a vote being called. As we have said before, calling a vote on this resolution is unnecessary political point scoring, given it should enjoy the support of all at this Council. We urge all member states to put the plight of the Syrian people first, and adopt this text by consensus, without amendment.
In the event we must have a vote on this text, we urge all delegations to vote in favour of the text as drafted.
Published 28 September 2018