News story
Fenerbahce vs Arsenal: Travel advice
Advice for fans travelling to Turkey for Arsenal FC's match with Fenerbahçe SK on Wednesday 21st August 2013.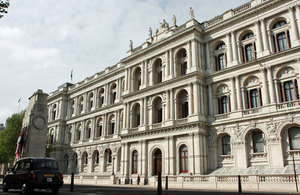 Date: 21st August 2013
Venue: Sukru Saracoglu Stadium
Kick off time: 21.45 hours (local time)
As well as this advice, check out our travel advice for Turkey
Passports and visas
You must obtain a visa for travel to Turkey- this can be applied for on arrival in Turkey at a cost of £10 (payable in cash only, no Scottish or Northern Irish notes accepted ) or online before you travel (payable by debit or credit card at a cost of 20 USD) and its valid for a stay of up to 90 days in a 180 day period.
Your passport should be valid for at least 6 months after the date of entry to Turkey.
Your European Health Insurance Card (EHIC) is not valid in Turkey, so travel insurance is essential, even if you're only going for one night - it could save you a lot of money if you get into difficulties.
It is illegal not to carry some form of photographic ID in Turkey. Carry a photocopy of your passport with you at all times.
If your passport is lost or stolen whilst in Istanbul then you will need to obtain an Emergency travel Document (ETD) from the British Consulate General in Istanbul.
Getting to the stadium
Arsenal Football Club has provided coaches from the City Centre (European side) to the stadium and return for all Arsenal supporters holding a match ticket (marked Visitors), these coaches will leave the entrance of Dolmabahce Palace at 19.00 prompt, please arrive at 18.30 to secure your place
At the match
Entry to the stadium through gates 35 & 36, fans will be seated in Block G.
Access to the stadium can be slow. There will be ticket checks and body searches at the entrance.
To avoid a last minute bottleneck you should get to the stadium early - doors will open at 19.30 hours.
In addition to items which would usually be prohibited in the UK, please note the following restrictions at the stadium:
No alcohol
No national flags or any banners that indicate violence or political statements
No coins
No flares
No drums
No umbrellas
No food
Visiting supporters will be kept behind for around 30-40 minutes after the match to allow the home fans to disperse
Tips
Generally crime levels are low, but street robbery and pick-pocketing are common in the major tourist areas of Istanbul. Only carry what you need and leave spare cash and valuables in hotel safety deposits.
In Turkey it is an offence to insult the Turkish nation or the national flag, or to deface or tear up currency.
Smoking is prohibited on public transport and in other public areas like stadiums, playgrounds, cafes, bars, and restaurants. You can be fined if you are caught smoking in a designated smoke-free area
We recommend that you purchase bottled water to drink which is readily available from local shops, hotels etc.
Relevant British Embassy/Consulate address and telephone numbers
British Consulate General
Mesrutiyet Caddesi No.34
Tepebasi
Beyoglu
Istanbul

Tel: 0090 212 334 6400
Emergency services numbers
Ambulance 112
Police 155
Further information
Please be aware of the possibility of ongoing demonstrations in Istanbul.
You should avoid all demonstrations and leave the area if one develops and follow the advice of the police or local authorities.
The effects of tear gas can be felt several hundred metres beyond the immediate site of demonstrations. Local transport routes may be disrupted.
You may wish to allow extra time for local travel, particularly airport transfers.
Protests have become less frequent and smaller, usually only at weekends.
The biggest demonstrations have taken place in central Istanbul on Taksim Square, on Istiklal Street and in the Besiktas area.
Published 20 August 2013