News story
This week at the Foreign Office
A look at the work of the Foreign Office and its embassies overseas this week.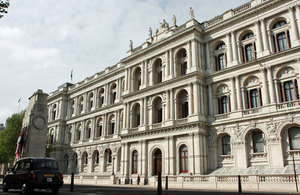 Queen Elizabeth Land
Her Majesty Queen Elizabeth II visited the Foreign Office on Tuesday for the final event of her Diamond Jubilee year. The Foreign Secretary William Hague paid tribute to The Queen, he said: "You have advanced ideals of peace, friendship, freedom and tolerance, and given on each occasion an immeasurable boost to our country's reputation overseas." The Foreign Secretary also announced that the southern part of the British Antarctic Territory has been named 'Queen Elizabeth Land' in honour of The Queen's sixtieth year on the throne.
Syria
The UN Commission of Inquiry on Syria report on the human rights situation in Syria concluded that innocent Syrian civilians are bearing the brunt of escalating armed confrontations between regime and opposition forces. Foreign Office Minister Alistair Burt said that the UK will continue to support the Commission's work and ensure that those responsible for these appalling crimes are held to account.
Iran
The Foreign Secretary spoke about the human rights situation in Iran, specifically the case of the Iranian human rights defender Nasrin Sotoudeh, addressing Ms Sotoudeh directly in a video message the Foreign Secretary said: "Be assured that we will continue to hold the Iranian government to account for your terrible treatment. We will not forget you."
Israeli settlements
The Foreign Secretary condemned Israeli plans to build 1,500 illegal housing units in East Jerusalem. He said: "Settlements undermine the foundations of a two state solution and trust between the parties. This decision, which paves the way for the extension of settlements in East Jerusalem, constitutes a serious provocation and an obstacle to peace."
Tibet
Foreign Office Minister Hugo Swire gave a statement about self-immolations and human rights in Tibet. He said that a long term solution is best achieved through respect for universal principles of human rights and genuine autonomy for Tibet within the framework of the Chinese constitution.
British diplomacy today
As part of the Speaker's lecture series on great offices of state the Foreign Secretary gave a speech on the history of the Foreign Office and the purpose of British diplomacy today.
Digital strategy
The Foreign Office published its digital strategy this week. This strategy explains how we will use digital to improve our work, creating a Foreign Office that is more effective, open and better able to deliver in today's networked world.
Seasons greetings
The Foreign Secretary William Hague remembered those who will be spending the festive season in places of conflict in his Christmas and New Year message.
Also this week
Watch the highlights of 2012: a GREAT year for Britain.
Watch the video A GREAT year for Britain
Published 21 December 2012