News story
Foreign Secretary marks anniversary of UN declaration on Holocaust
Foreign Secretary William Hague marks the 70th anniversary of the UN declaration denouncing the treatment of Jews in Nazi-occupied Europe.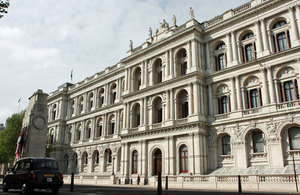 The Foreign Secretary William Hague said:
"Seventy years ago the British Government, shocked by mounting evidence from Poland of Nazi extermination of the Jews, joined eleven other war-time allies in a sharp united condemnation of what was happening on the continent of Europe. Sir Anthony Eden's Statement to Parliament on 17 December 1942 was followed by much public and Parliamentary discussion in the UK and among the United Nations about what could be done to stop the genocide and had a strong impact on subsequent allied planning for the post-war trials of Nazi leaders.
"The disastrous events of the Holocaust continue to reverberate through Western society, as the Stockholm Declaration in 2000 so eloquently reaffirmed. The British Government supports the work of the Task Force for International Cooperation on Holocaust Education, Remembrance and Research (ITF) and looks forward to assuming the chairmanship of the ITF in 2014/15."
Further Information
Information on the Task Force for International Cooperation on Holocaust Education
Published 17 December 2012