News story
UN report stark reminder of horrific human rights situation in Syria
Foreign Office Minister Alistair Burt: The UK will continue to support work of UN Commission of Inquiry on Syria to ensure accountability.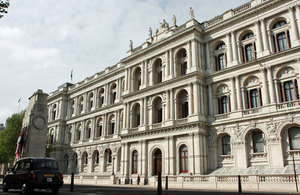 Commenting on the publication of a new UN Commission of Inquiry report on Syria, Foreign Office Minister for the Middle East, Alistair Burt, said:
Today the UN Commission of Inquiry on Syria published its latest report on the human rights situation in Syria. It shows that the international human rights violations highlighted in its previous reports are continuing unabated. The Commission concludes that innocent Syrian civilians are bearing the brunt of escalating armed confrontations between regime and opposition forces.
The Commission has received credible accounts of Government soldiers executing captives. Incidents of direct targeting of civilians by aerial bombardment, including "barrel bombs," rocket attacks and machine gun fire have risen significantly over recent months. There is testimony of systematic patterns of torture in detention centres, including of children. This report is a stark reminder of the horrific situation in Syria. I call upon all sides to put an end to the violence and pursue a process of genuine political transition which reflects the will of the Syrian people.
The work undertaken by the UN Commission of inquiry, in difficult circumstances, is vital to ensure that human rights violations and abuses committed by all parties are documented. We will continue to do all we can to support their work and ensure that those responsible for these appalling crimes are held to account.
Further Information
Read the UN Commission of Inquiry report on Syria
Read the UN Commission of Inquiry's previous reports
Published 20 December 2012