News story
Say thank you to someone at Companies House
Send an email to say thanks for the excellent service or help you've received from a person or team at Companies House.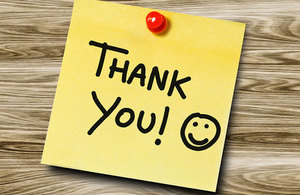 How to say thanks
If you'd like to say thanks and tell us about a person or team at Companies House who has given you a brilliant level of service - send your email to thanks@companieshouse.gov.uk
This could be someone who has:
gone out of their way to help you
been genuinely interested in your needs and responded to them
helped you deal with a difficult situation
The person will be told that you appreciated their effort and may even receive an award or gift voucher for their service.
What others have said
Here is some recent feedback about Companies House staff:
I cant thank you enough for the kindness and the quality of information you've given me today. This world needs more people like yourself, a true diamond in the rough.
For the friendliest welcome in any office anywhere visit @CompaniesHouse in Cardiff.
I have never seen any customer service reply as clear, detailed, well explained and genuinely interested in replying back. And the speed of your reply was also something I am really impressed with.
Thank you all so much for your help, I have received my code again and successfully filed my annual statement. I understand the process a lot more now because of your help so thank you again.
Published 12 April 2019