News story
Foreign Secretary speech at the Lord Mayor's Easter Banquet
Foreign Secretary William Hague delivered a speech on Margaret Thatcher's legacy in world affairs and lessons to be learned from it today.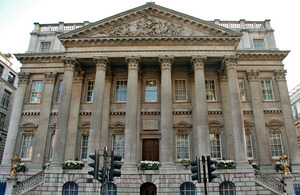 Speaking at Mansion House on Tuesday evening the Foreign Secretary, William Hague, paid tribute to Margaret Thatcher's legacy and highlighted her capacity to show leadership in the world. He talked about the foreign policy challenges that the UK faces today including the future of Europe, the Middle East and the situation in Syria. He talked about Britain's place and influence in the world, the work of the armed forces and the UK's commitment to freedom, human rights and democracy.
The Foreign Secretary William Hague said:
My Lord Mayor, Ladies and Gentlemen; it is an honour to join you for this Easter Banquet, and these marvellous ceremonies.
It is moving to think of the two and a half centuries that have rolled over this Hall and the human endeavour that has gone out from it; to imagine the many thousands of our countrymen and women who have lifted a glass here and in the Guildhall nearby, and some of the great leaders who have addressed them and our nation here in the City:
My hero William Pitt, in 1805, when the battle of Trafalgar saved Britain from the threat of invasion;
Winston Churchill in 1942, when the routing of Rommel's army at El Alamein secured the Middle East in the Second World War;
And Margaret Thatcher, who in 1982 addressed the victory parade for the Falklands campaign: that "triumph of endeavour and skill of planning and imagination", as she described it.
In death as in life, Margaret Thatcher has drawn both praise and opposition. She, who prized freedom above all things, would not be in the slightest bit upset by the disagreement.
Some of us, including me, will always be inspired and shaped by her achievements, while others may never reconcile themselves to her policies or to her character. The right to form our own opinions on that count is fundamental to our democracy.
But we should always do our utmost to learn from history, and above all in foreign policy. History gives the truest sense of how much positive change can be achieved in the world with the right policies, as well as of the many pitfalls before us.
Margaret Thatcher's field of action was always much wider than just the United Kingdom. Many others have spoken this week of her impact on our country. She was for example one of the greatest champions the City has ever had, something many in this audience will appreciate. She freed it to become what it is today: the world's envy and powerhouse of our economy. But tonight I wish to speak about her impact on the world stage and the lessons I believe we can still draw from it.
It is a pleasure to follow His Excellency the Kuwaiti Ambassador, always so eloquent on these occasions. The Kuwaiti Cabinet was in session when Margaret's death was announced to the world, and stopped to hold a two-minute silence in her memory. "Kuwaiti hearts at half-mast" was the headline in one of their papers. Ambassador, many people in our country will be touched, as I am, by these affirmations of friendship.
For the last week diplomatic telegrams have flooded into the Foreign Office from our Embassies across the globe reporting reactions to the news of her passing, from countries that found a friend in her, as well as those where some saw her as an adversary.
From friend or former foe, the tributes have been strikingly unanimous. She has been heralded as a "great stateswoman" , "outstanding leader" and "one of the few people who could clearly be seen to be writing history even during her lifetime". Others have spoken of her as a "fearless champion of liberty, [who] stood up for captive nations and helped the free world win the Cold War", "an inspiring leader and reformer", a leader who "made her country stand tall again", and who "while not always loved, was always respected". I'd like to thank the Diplomatic Corps here tonight for the clear expression in their countries of these sentiments and for joining us at the funeral tomorrow, and indeed for everything that they do to support their countries' friendship with the United Kingdom.
I believe I know why Margaret Thatcher is held in such respect internationally, and why in many cases regarded with such deep gratitude. It is because of the moral clarity of her passionate belief in the right to freedom in other nations, and her refusal to be deflected from what she thought was in our national interest. The first of these captured the imagination of many other peoples, while the second won the respect of their governments. Abroad, her name will always be synonymous with firmness, national pride and strength of character, and that is something for us all to be proud of.
It seems easy now, from the vantage point of 2013, to see the surge in new democracies of the 1990s as inevitable. It has become orthodoxy that the Soviet Union was doomed by the weight of its own flaws and contradictions, and that its demise was imminent. But the same is often thought of other undemocratic regimes that still cling on in our lifetime: such as North Korea, about to enter its seventh decade of grinding oppression while its leaders threaten nuclear confrontation. Fate can take a long time to catch up with such governments, and in the meantime their people suffer in their millions.
If we roll back the years to 1979 when Margaret Thatcher came to office, the global picture was one of darkness and uncertainty, with communism maintaining its grip on Europe, and elsewhere in the world advancing. Germany was still tragically divided, and Spain, Greece and Portugal were painfully building their democracies. Twelve states in Eastern Europe were still shackled to the Soviet Union, while seven states today were then part of Tito's communist Yugoslavia. Military dictators held sway in much of Latin America and large parts of Africa. It was the year Soviet forces invaded Afghanistan, and the Khmer Rouge's reign of torture in Cambodia had ended only months earlier.
This was an era of threatening darkness for democracy, of Cold War and nuclear stand-off, with dictatorship very much alive even where its days were numbered. Nor did Britain appear to have much power to change any of this. We were the sick man of Europe, as we were described, economically enfeebled and sapped by a spirit of decline.
Margaret Thatcher could have chosen to placate the Soviet Union, and shied away from confrontation. But she did not, winning the affection of those living under Soviet tyranny by championing their right to sovereignty. As the President of Estonia wrote this week, and I thank him for it: "for all those people who lived or suffered under communist domination, Mrs Thatcher was a beacon of liberty". She and of course the United States helped end the Cold War, and unleash the single greatest expansion of human freedom in our history. And she deserves recognition for the extraordinary skill with which she fanned the flames of resistance movements in Eastern Europe, at the same time as building bridges with Soviet leaders.
She showed the same courage of her convictions over the Falklands, despite all the risks and danger. As one of my predecessors Douglas Hurd recalled in his memoirs: "The British Government, and in particular the Foreign Office, was humiliated. The chances of a successful outcome, through either diplomacy or war, seemed hopeless". Yet she acted decisively. He recalls her invoking Shakespeare's Henry V with the words "He who hath no stomach for this fight, let him depart", after one meeting with wavering Ministers. Her success guaranteed the rights of the Falkland Islanders, which will always be protected.
With this courage she was capable of stiffening the spines of the strongest allies, with her own trademark frankness, including her famous words to the first President George Bush after the invasion of Kuwait that it was "not the time to go wobbly". She understood, as we know today, that if you are serious about peace sometimes you have to be prepared to go to war; when vital principles are at stake and conflicts cannot be resolved peacefully.
So by any measure Margaret Thatcher was a leader who fearlessly stood up for our country in the world, and raised it up in the estimation of other nations. Britain's standing in the world was restored by her, our status as an ally was enhanced by her, and our capacity to show leadership in the world was left beyond doubt by her. As Mikhail Gorbachev said, "Mrs Thatcher took over at a time when the United Kingdom was lagging behind the other nations, and she succeeded in radically changing both the domestic and international situation of Great Britain." She won her place in history, she holds it still, and will be remembered for generations.
Some people will ask what this has to do with us in Britain today, and it is true that our international environment is dramatically different. She came to office before full globalisation; before the mass advent of the mobile phone and internet; before the social media revolution; before the rise of global terrorism; and when economic power and influence were concentrated in the hands of fewer nations.
Ours is a far more inter-dependent world, in which we are vulnerable to what happens in other countries, no matter how geographically distant. We have to define our national interest more widely, giving even greater centrality to human rights, international development assistance and conflict prevention. We have to uphold and strengthen international law, in commerce or security. We have to win over international public opinion, in a world of far greater scrutiny and transparency. And because we face problems that require global solutions, we place more emphasis on multilateral agreements, such as the landmark Arms Trade Treaty we finally secured last month, and the agreements on conflict diamonds, cluster munitions and climate change that came before it.
Yet for all these differences, we too are also living in a challenging period of global transition: At home, inherited economic difficulty and in the Eurozone economic uncertainty, both compounded by much tougher international competition; in the Middle East a struggle for identity; globally new powers emerging; in some regions weak states failing; across cultures religion colliding with modernity; and technology empowering individuals, overturning assumptions and speeding revolutions. This decade is again one in which we have to show our own firmness of purpose, and to chart a successful course for our nation.
We need to be confident about Britain's economic future, knowing that if we have the resolve and determination to confront our national debt, reform our schools, our health system, our welfare system and our tax system, then we can and will win jobs and growth now and for the next generation.
At a time of profound change in Europe Britain must offer a vision of Europe's future, as the Prime Minister did in his speech in January: a Europe which is globally competitive, flexible enough to accommodate different levels of integration, put on a sounder democratic footing by allowing powers to flow back to its Member States and with a stronger role for national parliaments, and one which treats Eurozone and non-Eurozone countries equally. That is a European Union which would be a success in the twenty first century and could win fresh democratic consent from British voters, who have become deeply discontented with its direction of travel.
Like Margaret Thatcher, we must always retain our belief in the power of open markets, not only to set people free but to make them more prosperous. No single act would provide more benefit to the peoples of Europe, and of America, than a Transatlantic Free Trade Agreement. As Margaret Thatcher knew and proved in our own economy, free trade and enterprise, and the creativity, ingenuity and dynamism of individuals, are the only lasting source of economic growth, and fundamental to human freedom. Securing an ambitious Transatlantic Trade and Investment Partnership between the world's two largest markets is one of the crucial objectives for this decade, and would be a milestone in the progress to a more open global trading system.
And we should be absolutely clear where we stand on the Arab Spring, and the rights of the people of the region to their own political and economic development, no matter what the challenges. This means not lapsing into arrogant or outdated views that this is a region only suited for autocracy, or that the people of the Middle East cannot fulfil their immense potential and themselves create stronger, freer societies and economies. It also means being resolute in facing up to the bloodshed in Syria. The death toll is mounting, the threats to the region and our own security are growing, and we regard some of the increasing reports of the use of chemical weapons as credible. If no peaceful settlement is possible, the world will have to find other means of confronting Assad's aggression and be ready to do more to support the opposition and save lives, and we are determined that Britain will not be found wanting.
And we must stand resolved to confront all forms of terrorism whatever their origin, never allowing ourselves to be cowed or intimidated, denying terrorists the space to operate, combating their ideology, and addressing the conditions in which they seek to prosper. I know I speak for all of us in offering our support and sympathy to the people of Boston, and our condemnation of whoever is responsible for yesterday's cruel act of terror.
Beyond these immediate crises, we should be optimistic about Britain's place in the world, and our ability to exert a positive influence. There has been much debate in the past over the size of our power as a nation, and how it stands in relation to others and our history. But it is the nature of our power and influence in the world that matters.
Britain is a diplomatic and cultural power, and one of the few countries that can 'turn the dial' in world affairs. We are diplomatically active in most countries on earth, able to project military force if necessary, outward-looking and open in our disposition, and skilled at using our democratic institutions, our experiences, our language and our culture to work with other nations to help them overcome their problems.
There are thousands of our Armed Forces personnel deployed overseas at this moment, training Afghan forces to take responsibility for their own security, training Malian forces to stabilise their country, patrolling the drug trafficking routes of the Caribbean and Latin America, and combating pirates in the Horn of Africa. There are thousands of our humanitarian workers supporting the development of scores of other nations, and this year we became one of the first nations in the world to meet the UN target of 0.7% of gross national income on development assistance. And there are thousands of the men and women of the Foreign Office working in more than 150 countries, on everything from averting conflict to rescuing children from forced marriages and helping British companies win contracts overseas. The impact of our diplomacy is expanding today, as we open up to 20 new Embassies and consulates, ramp up our commercial diplomacy and build new alliances. And on top of all this are the many British entrepreneurs, lawyers, scientists, journalists, academics, artists, activists and doctors sharing their knowledge and expertise, collaborating with other nations in countless ways, working outside government but forming an integral part of our international contribution. I pay tribute to the British Council and other organisations who support so much of this effort.
Our country is at its best in the world, and it serves its interests best, when we combine this strong international engagement with an equally strong commitment to freedom, human rights and democracy.
We are one of the few countries in the world that can set a lead, whether it is to rally international efforts to turn around Somalia, or to use our experience in Northern Ireland to help conclude other peace processes, such as that in Mindanao in the Philippines.
And we have the power to use our influence to address fundamental injustices. Just as our forebears in the 18th century imagined a world free of slavery and fought to achieve it, so I believe that we must imagine a world free of the use of rape as a weapon of war, finally ending the systematic rape and abuses of thousands of women, children and men in conflicts around the world. And so I am proud that last week Britain secured a historic G8 agreement to work to end sexual violence in conflict, and of the campaign we have launched that is gathering international momentum.
So in our very different world, we must have the breadth of mind to apply the best of the lessons of Margaret Thatcher's time: that national decline is not inevitable, that global problems can be solved, that democratic values can prevail, and that Britain can and should play a leading international role. This is the policy we have been pursuing since 2010, and will promote in the coming years with ever-growing vigour.
For there is no inevitable progress to a better world – every advance in human rights and freedom always has to be fought for, by the people of those nations themselves and governments of the world acting together. We have to have the courage of our convictions, and to persevere even when the goal we aim for is distant and the difficulties great. And we must never lose faith in ourselves, or in the ability of other nations to take control of their destiny, as we are doing again, to defeat any threat of decline and to overcome every possible adversity.
Further information
Find out more about the UK's preventing sexual violence initiative
More information on the preventing sexual violence at our tumblr
Mansion House photo credit: James Stringer on flickr
Published 16 April 2013