World news story
Costa Rica vs Northern Ireland Travel Advice
Travel advice for Northern Ireland fans travelling to Costa Rica for the Costa Rica v Northern Ireland Friendly match on Sunday 3 June.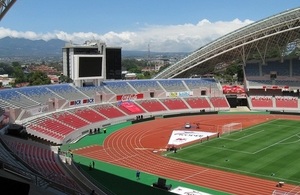 Date: Sunday 3 June 2018
Venue: Estadio Nacional, San José
Kick off time: 11am (local time)
As well as this advice, check out our travel advice for Costa Rica.
Passports and visas
British nationals don't need a visa to enter Costa Rica. You may stay as a visitor for up to 90 days under a tourist visa waiver, although the exact period is at the discretion of the immigration officer on arrival. If you plan to stay for a longer period, then multiple exit and entry isn't an approved alternative to obtaining the relevant visa for your circumstances. You should check the requirements with the Costa Rican authorities.
The immigration authorities are strict about foreigners who have overstayed. Currently, said authorities are implementing a USD $100 fee to those tourists who overstay their visa. The fee may vary if you stay more than 1 month in country.
Your passport should have at least one day's validity remaining on the date you plan to leave Costa Rica. If you hold a passport other than a British Citizen passport, different regulations may apply.
You won't need to carry your passport to the match to gain entry to the stadium.
If you lose your passport, you'll need to get an Emergency Travel Document from the British Embassy in San José.
Getting to the stadium
The Estadio Nacional is located within 'La Sabana' Metropolitan Park in San José. You can find it on Google Maps at 9°56′11″N 84°6′28″W
The best way to reach the stadium is by public transport or taxi.
Official taxis are red with a triangular sticker and plastic box on the roof with the name and number of the taxi company. Ideally, use radio-dispatched taxis. Make sure the driver's ID is clearly visible on the dashboard and that the driver uses the meter. Avoid using unofficial taxis - 'taxi piratas'. Violent incidents involving tourists have been reported.
Some radio-dispatched taxi companies in San José are:
Airport Taxis (a.k.a. 'Taxis Unidos'): (506) 2221-6865 and/or (506) 2443-7544
5 Stars: (506) 2228-3159
taxis en Rohrmoser: (506) 2296-2525
taxis en La Sabana (a.k.a 'Coopetico'): (506) 2224-7979
taxis La Guaria: (506) 2227-9300
There is no tram/metro/train in San José and public transport costs may vary depending on the route you take.
At the match
Get to the stadium early - doors usually open 2 to 3 hours before kick-off.
Access to the stadium can be slow - there will be ticket checks and body searches at the entrance.
In addition to items which would usually be prohibited in the UK, the following restrictions will apply at the stadium: any loose change and lighters may be confiscated and are unlikely to be returned; no bottles and cans are allowed in the ground and alcohol is banned within the stadium; flags and banners without poles are allowed subject to size.
Tips
You should maintain at least the same level of personal security awareness as in the UK, including when using ATMs. Petty theft of personal items including passports is a significant problem.
Be vigilant when using buses, as thefts are increasingly common. Bags in overhead compartments are particularly vulnerable. Thieves have simple but effective ways of distracting you.
Car theft and theft from cars is common, even during relatively short stops at restaurant and other car parks. Don't leave valuables in hire cars, even in the boot, and avoid leaving belongings where they can be seen from outside the car. Park in secure car parks with visible security staff, or in well-lit busy areas. There have been incidents where slashed tyres have given thieves the opportunity to help change your vehicle's tyres while an accomplice steals from the car.
Only carry what you need and leave spare cash and valuables in hotel safety deposits.
Contact the British Embassy in San José
British Embassy
Edificio Centro Colón
Paseo Colón and Streets 38 and 40

Telephone +506 2258-2025 (also for out of hours emergencies)
Office hours: Mondays to Thursdays, from 08:00 to 12:00 and 12:30 to 16:00 and on Fridays from 08:00 to 13:00.
For more information please visit the British Embassy San José website
Emergency services numbers
911 Emergencies (English speaking operators are available) – Police, Fire and Ambulance.
Further information
Published 24 May 2018