World location
UK and Timor Leste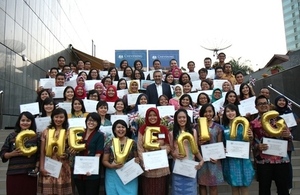 66 outstanding Indonesians and two East Timorese were awarded prestigious Chevening scholarships.
Our mission
The UK government does not have any permanent representation in Timor Leste but covers it remotely from Indonesia.
Documents
Organisations
Foreign & Commonwealth Office
There is no British Embassy in Timor Leste. The UK is currently represented in Timor-Leste through the British Embassy in Jakarta.
British Embassy
c/o British Embassy Jakarta
Jl. Patra Kuningan Raya Blok L 5-6

Jakarta 12950

Indonesia
Telephone (+62) (21) 2356 5200
Fax (+62) (21) 2356 5351
Office hours (Local time):
Monday to Thursday: 07:45am - 04:00pm
Friday: 07:45 - 12:45

Office hours (GMT):
Monday to Thursday: 12:45am - 9:00am
Friday: 12:45am - 5:45am
Foreign & Commonwealth Office
UK and Indonesia enjoy a close relationship, with many common interests and values. We are partners in challenges like terrorism and global warming, and work together closely within the G20. We are also here to support and protect UK interests in Timor Leste.
British Embassy Jakarta
British Embassy Jakarta
Jl. Patra Kuningan Raya Blok L5-6

Jakarta
12950
Indonesia
Opening hours (local time):
Monday to Thursday: 07:30 - 16:00
Friday: 07:30 - 13:00

Opening hours (GMT):
Monday to Thursday: 01:30 - 10:00
Friday: 01:30 - 07:00
Access and opening times