Ubicación en el mundo
Británicas con Panamá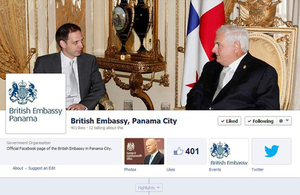 Averigua más sobre nuestro trabajo y servicios en Panamá a través de Facebook y Twitter.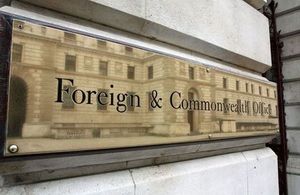 El día internacional de los Derechos Humanos es observado por la comunidad internacional el 10 de diciembre de cada año. Conmemora el día de 1948...
Nuestra misión
Estamos comprometidos con revitalizar las relaciones Británicas con Panamá y Latinoamerica. Protegemos y apoyamos los intereses y valores Británicos, salvaguardamos la seguridad nacional Británica, construimos la prosperidad Británica y apoyamos a los ciudadanos Británicos alrededor del mundo.
Documentos
Organizaciones
Foreign & Commonwealth Office
Nosotros representamos el Gobierno Británico y su gente en las relaciones con Panamá.
British Embassy Panama City
Embajada Británica
Torre Humboldt, 4to Piso
Calle 53, Marbella
(PO Box 0816-07946)
Ciudad de Panama
Panamá
Horas de oficina:
Lunes a Jueves de 7:30am a 4:30pm
Viernes de 7:30am a 12:30pm
Access and opening times
Department for International Trade
Department for International Trade (DIT) helps UK-based companies succeed in the global economy. We also help overseas companies bring their high-quality investment to the UK's dynamic economy.
Department for International Trade Panama
Ariel R. Perez Price LL.M - DIT Director
British Embassy, Commercial Section
4th floor, Humboldt Tower
53rd Street ,Marbella
Panama City
P. O. Box 0816-07946
Panamá