World location
UK and Panama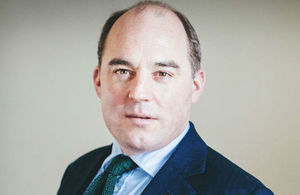 The Security Minister has signed an agreement with Panama on tackling serious and organised crime.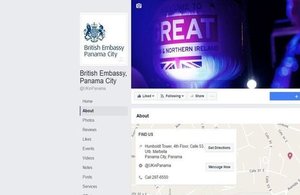 Follow the news and activities of the British Embassy Panama.
Our mission
We are committed to reinvigorating British relations with Panama and Latin America. We protect and support UK interests and values, safeguard Britain's national security, build Britain's prosperity and support British nationals around the world.
Documents
Organisations
Foreign & Commonwealth Office
We represent the British government and people in their relations with Panama.
British Embassy Panama City
British Embassy
Humboldt Tower, 4th Floor
Calle 53, Marbella
(PO Box 0816-07946)
Panama City
Panama
Office hours:
Monday to Thursday 7:30am to 4:30pm
Friday 7:30am to 12:30pm
Access and opening times
Department for International Trade
Department for International Trade (DIT) helps UK-based companies succeed in the global economy. We also help overseas companies bring their high-quality investment to the UK's dynamic economy.
Department for International Trade Panama
Ariel R. Perez Price LL.M - DIT Director
British Embassy, Commercial Section
4th floor, Humboldt Tower
53rd Street ,Marbella
Panama City
P. O. Box 0816-07946
Panama