World location
UK and Montserrat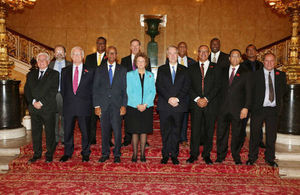 Political leaders and representatives of the UK and Overseas Territories met as the Joint Ministerial Council in London on 1 and 2 November 2016.
Our mission
We help Montserrat achieve sustainable economic growth and increased financial independence.
Documents
Organisations
Foreign & Commonwealth Office
The Governor's Office on Montserrat houses both FCO and DFID staff.
Governor's Office Brades
8 Farara Plaza

Brades
Montserrat
Switchboard (1) (664) 491 2688/9
Governor's Residence (1) (664) 491 6124
Facsmile (1) (664) 491 8867
Local Time:
Monday to Thursday: 8:00am to 4:30pm
Friday 8:00am to 1:00pm