"Support survivors of sexual violence in conflict" Minister says
At the United Nations General Assembly, Lord Tariq Ahmad calls on the international community to better support survivors.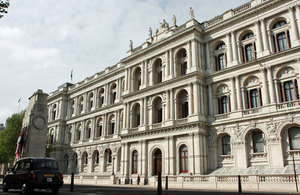 In his first event at this year's UN General Assembly, the Prime Minister's Special Representative on Preventing Sexual Violence in Conflict, Lord Tariq Ahmad of Wimbledon, co-chaired a roundtable event with Pramila Patten, the UN Secretary General's Special Representative for Sexual Violence in Conflict, on galvanising the international community's response to this heinous crime.
The event brought together representatives from around the world to work out how the international community can be more responsive to the needs of survivors, and improve their access to justice.
Lord Tariq Ahmad of Wimbledon, Minister of State for Human Rights and the UN said:
Sexual violence as a weapon of war is used to brutalise, torture innocent civilians and ethnically cleanse communities.

We must stand together against the culture of impunity which perpetuates this violence and strengthen the routes to justice for the survivors, ensuring perpetrators are held to account.
UN agencies estimate that more than 60,000 women were raped during the civil war in Sierra Leone, more than 40,000 in Liberia and at least 200,000 in the Democratic Republic of the Congo.
Lord Tariq Ahmad also canvassed the group on possible themes for the UK's Preventing Sexual Violence in Conflict international meeting in November 2019. The meeting will seek real commitments from governments and international organisations to accelerate the drive to end impunity; advance justice and accountability; tackle stigma; and develop new ways to prevent and address sexual violence.
Published 26 September 2018