World news story
Panama vs Northern Ireland travel advice
Travel advice for Northern Ireland fans travelling to Panama for the Panama v Northern Ireland match on Tuesday 29 May.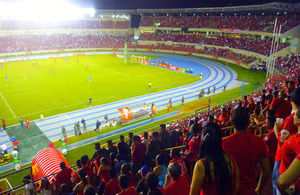 Travel advice for Northern Ireland fans travelling to Panama for the Panama v Northern Ireland match on Tuesday 29 May.
From: British Embassy Panama City
Advice for Northern Ireland fans travelling to Panama for the Panama v Northern Ireland match on Tuesday 29 May.
Date: Tuesday 29 May 2018
Venue: Rommel Fernandez Stadium, Panama City
Time: Kick off 8pm (local time)
As well as this advice, check out our travel advice for Panama
Passports, visas and travel insurance
you don't need a visa to enter Panama. Your passport should be valid for the proposed duration of your stay. Check that the next of kin details in your passport are up to date

when in Panama, ensure to leave your passport somewhere safe, and carry a copy of your passport's details and entry stamp pages

take out travel insurance before you travel, if you get into difficulties it could save you a lot of money

if you lose your passport, you will need to apply for an Emergency Travel Document (ETD) to return home. The ETD will be issued by the Consular Section of the British Embassy in Panama City. The fee for an ETD is £100 (USD 145) payable by cash or card. We will also need a passport photo and a copy of your confirmed flight details to process your application
Getting to the stadium
Panama City's main airport is Tocumen International Airport. It is located about 20 km from the centre of Panama City. It is easy to get to the City Centre by taking an official airport taxi, official hotel taxi/shuttle or Uber. The ride should take about 25 minutes without traffic (Map of Panama City).
The Rommel Fernandez Stadium is located in the east of Panama City in Calle 121 Este, Panama City. It lies about 10 kilometres away from the Paitilla area and 14 kilometres from the Casco Viejo old town.
The Panamanian FA suggested that the fans can meet at the Town Centre Mall in Costa del Este, and coordinate transport from there. Stadium doors will open at 5pm.
Hotel shuttles may be available as an alternative to private taxis. For bus routes from your accommodation to the stadium, please inquire locally.
For bus travel and the metro rail travel, you will need to have a metro card.
Yellow taxis are generally unreliable and not recommended.
At the match
We recommend that you arrive early for the match, stadium doors open at 5pm Away supporters will be seated in the West end of the stadium and should enter the ground through the western entrance. You will be subject to a pat down or body search before entering the ground.
Belt buckles, fireworks, flares, alcohol, poles for flags, glass bottles, sharp objects or other items that could be used as a weapon or thrown onto the pitch will not be allowed into the ground.
Drinking alcohol at football matches is allowed in Panama - beer is sold at the stadium in plastic cups until the 60th minute of the match. You cannot bring your own beer/alcohol into the stadium.
Police and security staff have the authority to deny entry into the stadium to spectators under the influence of alcohol or drugs.
Toilet and refreshment facilities for the away supporters will be located near the seating areas in the west end. Obey instructions from stadium security to avoid being removed from the stadium and detained by the police.
General information
the YR website has up-to-date weather forecasts for Panama

drinking in the street or in non designated pub or restaurant areas is prohibited in Panama

don't get involved with drugs - the penalties are severe. Possession of even small quantities can lead to heavy fines and/or imprisonment

drugs and drink driving laws are stricter in Panama than in the UK
For the latest information on safety and security, visit our travel advice page for Panama.
Contact the British Embassy in Panama City
Telephone +507 297 6550 (also for out of hours emergencies)
Office hours: Monday to Friday: 7.30am to 16.30pm
Emergency services numbers
103 - Fire Department

104 - National Police

511 9260 - Tourism Police

911 – Ambulance/Emergency Services

*335 or 316 3200 – SINAPROC/Rescue Services

*455 – Red Cross
Useful links
British Embassy in Panama City
British Embassy Panama City on Twitter
Panama City Tourist Information
Punta Pacifica Private Hospital
Published 11 May 2018