Government response
Homes and Communities Agency response to the Birmingham Post
The Homes and Communities Agency provided the following statement to the Birmingham Post today following its article about the agency's land holdings in the Midlands.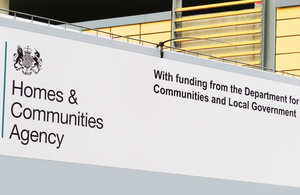 We disagree with the main thrust of your article of 26 February ('9,000 house plots 'sat on' by agency'). The picture is, in reality, a lot more complicated than this headline figure suggests, which does not reflect the work the Homes and Communities Agency (HCA) is doing to support positive recovery in the Midlands and other parts of the country, both in the housing market and the wider economy.

The information in the article is drawn from a CBRE report using data from a HCA disposal plan published in July 2014. Rather that 'sitting on' land as the article implies, the CBRE report actually sets out the land scheduled for sale by the HCA within the next two years to advise developers and house builders of opportunities coming forward to support housing and economic growth.

In Birmingham, all of land the HCA has recently owned was taken over from the Regional Development Agency in 2011 and was predominantly commercial development land – so would not therefore all be able to be allocated as housing plots as the article suggests.

The original proposed disposal dates for this land have been accelerated by the HCA to bring these land assets to market as quickly as possible, with all of these sites now either disposed of or being secured within development agreements.

HCA land in Birmingham is being disposed of in conjunction with the city council to support the city deal agreed with government and to unlock further council land. In the past few years, the HCA has successfully disposed of several important sites in Birmingham, including land at Eastside, Aston Manufacturing Hub, Edgbaston Cricket Ground, Longbridge and Icknield Port Loop.
Published 2 March 2015