Press release
Foreign Secretary holds talks with French Foreign Minister
UK-France Summit discussions between Foreign Secretary and Foreign Minister Laurent Fabius on key issues Syria, Africa, Ukraine and EU.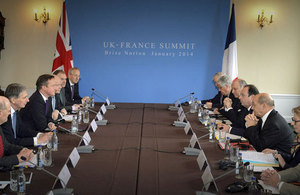 At today's UK – France Summit in Oxfordshire, Foreign Secretary William Hague met his counterpart Foreign Minister Laurent Fabius. Discussions focussed on the conflict in Syria and strengthening UK-France cooperation on wider foreign policy, climate change, and in the EU.
The Foreign Secretary William Hague said:
Foreign Minister Fabius and I discussed next steps to address the conflict in Syria, in the light of the end of the first round of negotiations between the regime and opposition in Geneva today. We agreed on the importance of maintaining the momentum in negotiations with Iran on a comprehensive settlement to the nuclear issue. And closer to home, we shared our concerns on the situation in Ukraine. We agreed to intensify our cooperation on Africa, including in working with the African Union to tackle unrest in Somalia, Mali, South Sudan and the Central African Republic. And we will continue to work closely together on climate change and energy issues.

We also looked together at ideas for reform of the European Union, and the prospects of accession to the Union for countries in its neighbourhood.

France is one of our strongest and closest allies on foreign and security policy. Our discussions reflected that, and reinforced our determination to work together to advance our countries' many shared interests and values.
Further information
Find out more about the UK - France summit 2014
Follow the Foreign Secretary on twitter @WilliamJHague
Follow the Foreign Office on twitter @foreignoffice
Follow the Foreign Office on facebook and Google+
Published 31 January 2014