World news story
Ending Sexual Violence Initiative held for SADC Security Forces
The training was held at the SADC Regional Peacekeeping Training Centre in Harare, Zimbabwe.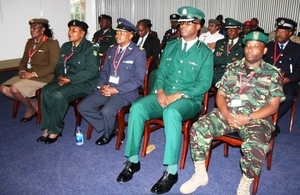 Participating Security Forces from Southern Africa Development Community (SADC) member states have completed an inaugural training course in Sexual Gender Based Violence (SGBV) Course in Peace Support Operations at the SADC Regional Peacekeeping Training Centre (RPTC) in Harare, Zimbabwe.
The British Embassy funded two week training course run in Harare is the first of its kind in southern Africa. Participants were a mix of key players in modern day peace support operations including the military, police and prison/correctional service. The following countries were represented: Madagascar, Malawi, Mauritius, Swaziland, Tanzania, South Africa, Zambia and Zimbabwe.
The United Kingdom's Defence Attaché to Zimbabwe, Colonel Ian Mills, said:
The UK's support for this training is part of the wider Preventing Sexual Violence Initiative (PSVI) that was spearheaded by the UK globally in June 2014. We are delighted that the SADC RPTC in Harare has rolled out this programme, which seeks to embed the prevention of sexual violence in peace support operations by ensuring that uniformed forces recognize the rights of vulnerable people in conflict zones. The aim is to prevent sexual violence from occurring in the first place rather than dealing with the consequences of it later.
Speaking at the graduation ceremony, the SADC RPTC Commandant Brigadier General Bongani Jonas said:
The military is the backbone of Peace Missions and modern Peace Support Operations require all players to be meet the demands of different aspects of conflict. The course participants graduating today are ready to be deployed and deliver in any UN, AU or SADC mandated Peace Mission.
Lead SBGV Course Facilitator, Ms Leah Barasa, from the International Peace Support Training Centre in Kenya, said key aspects of the course covered the following modules among others:
Introduction to peacekeeping operations.
Rules of engagement.
Sexual exploitation and abuse.
Causes and effects of sexual gender based violence.
UN Charter and Humanitarian Law.
Investigations.
HIV/AIDS.
In line with United Nations Security Council Resolution 1325, which calls for more female involvement in Peace Support Operations activities, five of the seventeen participants were female.
It is anticipated that the graduates will champion SBGV training to their colleagues in their home countries; once sufficient funding has been sourced.
The SADC RPTC plans to offer the course again in the near future.
Published 12 August 2015