Press release
Birmingham community association celebrates 20 years with 20 homes
The organisation heading up Birmingham's first community-led housing scheme is celebrating the start on site today of its 20 home scheme, on the same day as it celebrates its 20th anniversary.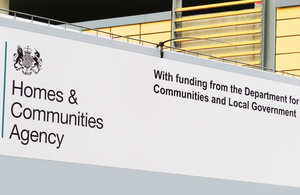 The double celebration for Witton Lodge Community Association (WLCA) in Perry Common, Birmingham, comes off the back of a joint bid with Birmingham City Council for community-led funding from the Homes and Communities Agency's (HCA) Affordable Homes Programme.
£500,000 has been invested into the area by the HCA, recognising the strong resident involvement and community governance demonstrated by WLCA and Birmingham City Council.
These new family homes will form the final phase of redevelopment in Perry Common which has undergone transformation since the 1990s. WLCA was set up in 1994 at the time of large-scale demolition of former 'Boot Houses' (made from concrete and steel frames) and its mission, at the time, was to ensure residents' voices were heard and that the 'new' Perry Common was designed with local people being at the centre of this process.
Fitting therefore that 20 years on, the association is continuing in its mission with these latest 20 homes kicking off the final phase of redevelopment for Perry Common, which when complete will take the total number of new homes to over 900 and the amount owned by WLCA to almost 200. Alongside the construction of the 20 new WLCA homes, properties are also being built for Birmingham City Council and for private sale.
Linda Hines Resident Director and Chair of WLCA states:
I am delighted to see the site being prepared for building work to begin. This is especially important being our 20th anniversary. The 20 homes represent every year WLCA has helped steer the regeneration in Perry Common – and being the final phase of rebuilding, it is a fitting tribute to all the hard work from members of the local community and our partners.

Our new family homes will complement the regeneration of the whole area, which has made Perry Common an area where people want to live and enjoy life.
Baggi Matu, Area Manager for the HCA, Midlands said:
Witton Lodge and Birmingham City Council made an impressive application to us. They were exactly the sort of organisation for which our community-led programme was all about. They demonstrated strong community governance, resident involvement and a clear understanding of local needs. And, they have a great story! We are really pleased that our support is enabling them to deliver these 20 really important homes in their 20th year.
Councillor Tahir Ali, Cabinet Member for Development, Jobs and Skills (responsible for Housing growth), at Birmingham City Council said:
The Witton Lodge Community Association team are exemplary practitioners in community-led regeneration. Their approach ensures residents are at the heart of decision-making and we were pleased to support their work to increase the local housing stock.

These 20 new homes will form an important part of the City Council's housing growth strategy and bring much-needed homes for local people.
Work has now started on this final phase with developer Lovell Partnerships with the first homes due to be complete towards the end of the year.
David Gough, regional director of Lovell, said:
We're delighted to be providing much-needed housing for the area, both for WLCA and also for Birmingham City Council. A huge amount of work has been undertaken by many different organisations to help regenerate this area, and it's great to be involved. We can't wait to get started on building these high quality, comfortable homes for the people of Perry Common.
Published 19 March 2014