Press release
Bidding opens for around £800 million of 2015 to 2018 Affordable Homes Programme funding
Housing providers in England are invited to bid for a share of around £800 million through the HCA's continuous market engagement approach.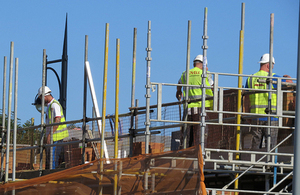 Today marks the second phase of bidding under the Homes and Communities Agency's (HCA) £1.7 billion Affordable Homes Programme, following confirmation in July of £886 million of initial allocations for 2,697 firm schemes that will deliver 43,821 new affordable homes. The £1.7 billion total investment will make a significant contribution to the government's ambition for 165,000 new affordable homes by March 2018, while boosting overall housing supply and local economic growth.
As with the initial phase, schemes brought forward for consideration under continuous market engagement (CME) will be subject to rigorous assessment, based on fit with local priorities, value for money and deliverability. Opening up to bids under this approach will allow housing providers further opportunities to bring forward schemes for delivery during the 2015 to 2018 period. These will include specialist, supported or rural housing, which can often require a longer lead time, and these, along with schemes making use of advance housing manufacture, are especially encouraged under CME.
HCA Chief Executive Andy Rose said:
We have already set in place a solid delivery programme that puts us on track to make a significant contribution towards government's aspirations for up to 165,000 new affordable homes by March 2018, while supporting overall housing supply and local people and places. It will also help ensure a smooth transition from our current Affordable Homes Programme, delivering firm schemes that can start on site promptly.

Opening for bidding for the remaining funding under CME will give new and existing partners the opportunity to bring forward bids to meet their future development aspirations. We will use our strong relationships with local authorities to ensure that allocations under the Affordable Homes Programme continue to support local priorities.
Housing Minister Brandon Lewis said:
The government is delivering on affordable housing for the communities and people of this country with more than 200,000 new affordable homes since 2010.

Our latest investment is a clear sign of the government's continued commitment to increasing the overall housing supply and affordable housing in particular. As well as building homes this funding is also a key part of our long-term economic plan, creating construction jobs as we deliver a further 165,000 new affordable homes from 2015.
Kevin Willetts, executive director of development with WM Housing, added:
The CME approach means we can develop further schemes in detail before asking for grant, so we can not only react to the changing economy but also present schemes with a higher chance of successful delivery at a cost which we can be more certain of achieving.
Read what our partners are saying about the CME approach.
Published 23 October 2014