Press release
Accord wows minister with speedy construction in Walsall
Home and Community Agency (HCA) Midlands partners build 2 houses on minister's visit.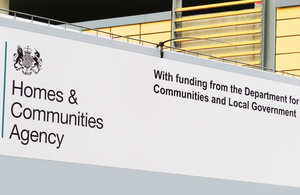 Accord's off-site manufacturing method was in the spotlight and Housing and Planning Minister Brandon Lewis MP watched as 2 family homes were built within the day at the Beechdale development in Walsall. The development has received almost £1 million through HCA's 2011 to 2015 Affordable Homes Programme (AHP).
Accord was the first housing association in the country to create its own timber factory, which is based across the road from the Beechdale development in Walsall. Called, LoCaL Homes, the venture produces around 200 offsite homes per year and has created in excess of 30 jobs at the site.
Alan Yates, executive director of regeneration at the Accord Group said:
The demand for housing across the country remains high but we are confident that offsite manufacturing offers the solution to increase the building of more homes, efficiently and to a high quality.

We're delighted to have demonstrated that two family homes can be built in a day using this technique and that a site that has stood derelict for seven years can be regenerated for the benefit of local people.
Speaking about his visit to Walsall, Brandon Lewis MP said:
We need to build more homes in this country, and new housing should be efficient and built quickly to a high quality, using brownfield land wherever possible. Innovative approaches such as offsite construction are one way to achieve this. They are widely used on the continent, but only play a limited role in British house building.

We need to catch up, and I would encourage all councils and developers to consider the cutting-edge techniques I've seen being used in Walsall, where fantastic new homes are being built in record time on brownfield land for local people.
The day was hosted by Walsall Council and also on show during the day was another of HCA's 2011 to 2015 AHP schemes at Blakenhall, where Walsall Housing Group is delivering 73 new affordable homes. His tour finished at the brand new Mar City development in Walsall – a private development of modular homes.
Published 18 August 2014