Press release
£100 million project is now underway at Cotgrave, Nottinghamshire
Partners gathered at Cotgrave this week to see the start of the £100 million project to build over 450 homes.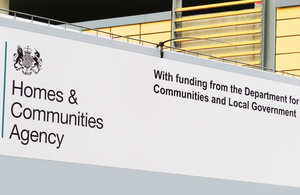 Representatives from Rushcliffe Borough Council, the HCA, Barratt Homes and David Wilson Homes attended as well as other key partners involved in the project: Nottinghamshire County Council, Metropolitan Housing Trust, Cotgrave Town Council and the Construction Industry Training Board (CITB) attended - all of whom have played a key role in bringing this ground-breaking project to fruition.
Cotgrave is an 8-10 year project with a value of approximately £100 million. Spread over 34 hectares, the site is a derelict pithead site on a former colliery and will deliver 450 new homes of which 141 will be affordable. The project will also provide nearly 600 jobs through the development of 18,500 sq m of employment floor space.
Rushcliffe, the borough in which Cotgrave sits, is only the second council in the East Midlands to be awarded 'Client Based Status' under the National Skills Academy for Construction and the first in the D2N2 Local Enterprise Partnership. This means that developers and housebuilders will employ and offer training opportunities to local people when building new homes. This approach has been adopted at the Cotgrave site, and will be delivered and supported by Barratt Homes and employment partners.
Cllr Neil Clarke, Leader of Rushcliffe Borough Council, said:
This major development is a massive boost for Cotgrave and Rushcliffe's economy, as well as providing new homes and giving local people opportunities for work and training. It is another way we are transforming Cotgrave from a former pit village into an even more desirable location to live and do business. Rushcliffe Borough Council is proud to continue to support developments which benefit local communities.
Graham Dobbs, Head of Midlands North for the HCA - the government's housing and regeneration agency which has invested £3.6 million into Cotgrave said:
We are really pleased that the work and investment we have put into this project along with the the council, developers and local people over many years is now coming to fruition. As well as new homes for local people, we will also boost job opportunities and local economic growth.
John Reddington, Managing Director for David Wilson Homes East Midlands said:
We're immensely excited to be starting work at Hollygate Park, which will offer our very best new homes in a unique setting. Working closely with Rushcliffe Borough Council and other partners we look forward to creating job opportunities and a vibrant new community for local people.
John Dillon, Managing Director of Barratt & David Wilson Homes North Midlands, said:
Hollygate Park will be one of our most prestigious developments, and having worked in partnership with the local authority and others toward the same goal, we can confidently say this will be an exceptional place for people to call their home.
Debbie Johnson, from CITB, who is heading up the National Skills Academy for Construction, said:
We are delighted to have awarded Rushcliffe Borough Council with Client Based Status for such an important project. This means that we can all work in collaboration, supporting development of the supply chain, while working with schools and colleges in the local area to raise aspirations of young people, delivering a legacy of skills for the local community and the industry as a whole.
Published 16 September 2014