Case study
Transforming surplus public land in Derbyshire
Former hospital land is being brought back into use to provide much needed new housing at Manor Kingsway in Derby.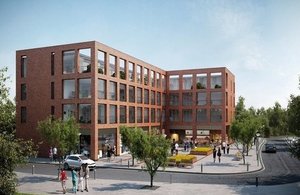 The reorganisation of healthcare facilities in Derby in the early 2000s saw significant areas of the Manor Kingsway Hospital site become surplus to the needs of the NHS. The land was transferred to the Homes and Communities Agency (HCA), which is working with Derby city council to recognise the potential it holds to create a high quality mixed use development that will help address housing needs in the area.
Sitting approximately 1.5 miles north west of Derby city centre, the development of 700 new homes is ideally placed for anyone from city workers to families. New road infrastructure has been put in place to help open up the site, alongside public open space and an extra care facility. Retail space (500 sq m) and commercial space (20,000 sq m) is also being developed, which will bring jobs to the area and provide a boost for the local economy.
The new houses are being built by Kier Partnership Homes and have been designed to draw on the mill heritage of Derby and existing architectural influences across the site. Existing landscape features, including a tree lined crescent, are being retained to enhance the overall development and ensure plenty of leisure and ecology space. The Land Trust will manage the green space across the development.
The first homes are currently under construction on the 22 ha site, and over the eight year development time of the scheme a total of 100 apprenticeships will be created.
Quick facts
The development at Manor Kingsway will create 700 new homes, alongside, 20,000 sq m commercial space and 500 sq m retail space
Around 100 apprenticeships will be created over the lifetime of the project
The scheme is one of the first in the country to meet the Building for Life 12 standard, the highest level achievable and equivalent to 'Diamond status' on the old BfL rating system
Resources
Visit the Manor Kingsway development website
See the master plan for the scheme
Watch a video about the new homes and what Derby has to offer residents:
Published 4 March 2015