Case study
Tina: Without this support I'd still be on drugs
From:

Part of:

Published:

12 August 2013
Gemma Sanders, an Employment and Skills Key Worker funded by JCP at Melton Borough Council helped Tina stay off drugs and secure employment.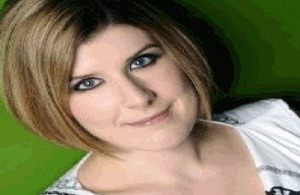 Tina's life was falling apart. Having married at 17, her marriage of 10 years had broken down, and her new partner had just committed suicide. She began to self-destruct. Over a nine week period she began drinking heavily and taking a cocktail of drugs. Tina became addicted to mephedrone, or 'MCAT', and her situation spiralled out of control. Despite previously holding down a job she was now living almost completely on child benefits, most of which she spent on drugs.
I was taking cocaine, weed, ecstasy, then I got addicted to MCAT and I started losing everything. I was in debt up to my eyeballs and I was just clutching onto the kids, clutching onto the house, clutching onto my life, just by a string.

I was living on £134 a month. And I spent the majority on MCAT… and drink.
Unable to pay her bills, and with ongoing debts as a result of her divorce, Tina had to make the heart-breaking decision to leave her house, and giving up custody of her three children to their father.
I chose to let go of my house because it was a 'party house', that's even what the kids called it. About 20 people a day were coming in and out. You just get stuck in a rut and you think these people are your friends and they're not – they're just there to feed your habit.
Tina, then homeless, stayed at a friend's house and occasionally with her brother, who recommended that she seek help from Gemma Sanders.
Gemma is an Employment and Skills Key Worker at Melton Borough Council, the funding of this post was secured from Jobcentre Plus. Gemma works as part of a dedicated team focusing on tackling issues for vulnerable individuals and families. She has a small caseload of around eight families who need the greatest support for the parents to get into work due to multiple issues such as debt, substance abuse, mental health and other significant issues. She works on a one-to-one basis to support them into employment.
I focus on the root causes that prevent people finding sustainable employment using a solution-focused method. I don't go into a family and tell them what they need to change; I let them tell me what they need to change.

The empowerment this gives the parents brings about real long-term change. I support them with things like making appointments, but I'm confident that when I've finished working with them they will make those telephone calls themselves.
Due to the multiple barriers to employment faced by many vulnerable families, Gemma sees engaging other professionals as essential.
I work really hard at my partnerships, so I spend a lot of time on the phone to different providers to try and make sure we've got everything in place for that family.

Without the other organisations and the kind of support my role allows me to provide, in theory you could find someone a job, but it's unlikely they would sustain that employment.
Tina was given an action plan to help her address the problems she was facing.
Gemma basically sat down, wrote out all my debts, got all the paperwork together, talked about the kids, talked about my addiction, got me help for that. Over the last four months the change has been massive and the support and help I've had is amazing.
One of the key benefits of Gemma's role is her ability to help individuals navigate what can often be a complex and daunting system.
Without that support I think things would take a lot longer for them.
Gemma emphasises personal responsibility for individuals to change their lives.
They have my backing 100%, and I make it easier by providing small achievable steps, so that we move forward each week.
After many small steps, Tina has been clean of drugs for 6 months, and rarely drinks at all.
My daughter, who's eight, said to me the other day 'Oh Mummy, you're better now aren't you?' I'm glad they can see me differently now I have a job and I'm free from drugs.

I've got two jobs on the go, working within the community as a carer for the elderly, and I'm also training to be a junior youth worker. I haven't really got time to think about drugs any more.

To begin with, I felt sick of failure and that everybody thought there was no hope for me, but now I feel great. I've never felt better within myself. I'm healthier and happier and I can think about things clearer, and if I do have a problem I know I can ring Gemma and she'll help me sort it out – give me some hints or give me the other options I can choose from instead of just 'jumping ship'.
Gemma has worked with Tina to put in an application for a new house, she is now hopeful of getting her children back, and looking forward to a brighter future.
I'm looking forward to having all my kids under one roof, having a house, earning money and living a good life from now on. And I'd love to help other people like me get the opportunity to do so too.
Document information
Published: 12 August 2013