Case study
Shelley: I felt like a person again, I felt like I was part of society
From:

Part of:

Published:

12 August 2013
The Inclusions Drugs Services and Booth House, run by the Salvation Army, helped Shelly get off drugs and in to her own home and employment.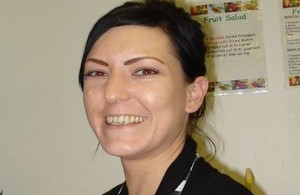 Shelley's mum died when she was 14 and that's when things started to go wrong for her.
I got into the wrong crowd, started drinking, taking drugs and general teenage mischief…
Although she started as a teenager with sporadic use of drugs like cannabis, amphetamines and pills, for Shelley it was the beginning of a drugs problem that was to be with her for some years to come. Despite periods of stability when things got better, whenever things got difficult she found herself returning to drugs to get through.
After a long time of being on and off drugs, by the age of 25 Shelley had become a habitual heroin user, and realised that she had to do something about it.
I realised this wasn't the life…although I'd had binges with drugs, heroin was one thing I never thought I'd get into.
This was when Shelley contacted Inclusions Drugs Services, who helped her get off heroin and onto a reduction programme, from which she eventually got clean altogether. Things settled down but then at the age of 30, after a relationship broke down, Shelley found herself homeless on the streets of Swindon.
I spent a couple of weeks staying on people's sofas and walking the streets, sleeping anywhere I could.
Shelley was finally referred to Booth House by the Housing Team at Swindon Borough Council. It proved to be a turning point.
They changed everything for me. I was in a bad place, I was thinking of drugs again - I didn't actually go to the extent of using again, but my mind was in a bad place, and luckily they took me in.
Booth House is a hostel run by the Salvation Army, where they have set up an employability programme co-funded by the Flexible Support Fund and contributions from other organisations. The programme provides routes into employment for homeless residents, aiming to move them into their own homes and work. Two local Social Enterprises have been set up to provide work experience, training and qualifications, one as a sandwich shop and the other as a recycling shop for bikes. Both are run and managed by residents giving them the opportunity to develop a wide range of work skills supported by training in formal qualifications.
Liz, the Business Projects Coordinator told us:
The aim is to have a working environment where people can feel accepted and develop confidence, skills and get qualifications. People start to discover their true potential and we can help them get back into independent living and work.
Residents can get qualifications in a number of areas, from Food Safety to NVQs in Customer Service. Each individual has a training plan that is regularly reviewed and as they gain competencies in one area, they move on to the next one.
Booth House also works closely with local businesses and colleges who have supported the courses, an approach that has helped to secure government funding.
When we went to the Department for Work and Pensions with our employability programme there was evidence that we're being funded through the business community here.
The funding from Jobcentre Plus and the Flexible Support Fund has made a big difference to the project, and meant that they have been able to fund real jobs in the social enterprises.
By getting the funding through the Department for Work and Pensions, we've been able to fund a part-time post in the sandwich business and support a post in Re-Cycles.
Liz says the approach at Booth House is working for many people.
We were looking at our figures for 2012. Our Employability Scheme funding started in September 2012. We actually had 74 people involved during the whole of the year and we had 12 going into employment. Bearing in mind the client group we're working with, that's a fantastic result and one we want to maintain and improve on.

Hopefully with the funding we've now got, we will have the time to work one-to-one with clients and get out and build up stronger links with the community.
Shelley got the job in the sandwich business after she had been volunteering there for a while. At first she wasn't sure about volunteering, but then she realised that it was a great way to build up her confidence.
When you're getting praise and someone's telling you you're doing good… it makes you feel good.
Her time at Booth House, and particularly getting a job, has made a big difference. "I felt like a person again, I felt like I was part of society again."
After seven months living in Booth House, Shelley now has her own place and feels positive about her future.
I feel brilliant. I feel pleased with myself that I've achieved it – when I think back to five years ago, I think now I'm probably in the best place I've been in a long time.
Document information
Published: 12 August 2013