A revolutionary new Synthetic Aperture Radar (SAR) satellite providing affordable Earth observation data.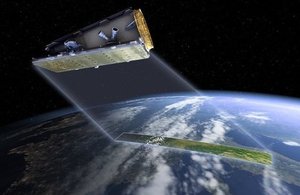 NovaSAR will consist of four state of the art SAR satellites able to operate day and night in all weather conditions. The first of these satellites is being funded by the UK government and is currently in development.
government investment announced in November 2011
weighs less than 500kg
designed to operate for 7 years
The satellites will provide Earth observation data for environmental management and disaster monitoring.
Making synthetic aperture radar more affordable would help place the UK at the forefront of a new and exploitable global market. Economic benefit to the country will result not only from jobs in the industry building the space infrastructure and the associated supply chain, but also from the creation of business opportunities in downstream service sectors and across the wider economy.
For more information about NovaSAR visit the Surrey Satelite Technology Limited website.
Mission Facts
This will be a technology demonstration on a much smaller spacecraft than traditional SAR satellites, dramatically reducing cost. The NovaSAR system uses commercial off-the-shelf technologies.
These instruments can be used for regular monitoring of specific areas which makes them ideal for monitoring:
maritime surveillance of drug-trafficking
piracy
oil spills
deforestation
flooding
glacial melts
Technology
The S-band (3.1-3.3GHz) imaging frequency is useful for a range of applications because it is able to 'see' through cloud cover and at night.
The mission is designed for sun synchronous or equatorial orbits depending on the target area. This means the satellites are able to regularly revisit the same same place, anywhere on the globe as often as twice a week.
The design builds on UK expertise in small satellites as well as SAR technology from ERS-1, ERS-2 and Envisat.
UK Involvement
The Government are providing £21 million to assist in the development and launch of the first satellite of the constellation. Success will unlock over £150 million of inward investment to the UK.
Once NovaSAR is up and running businesses will be able to use the satellite data to develop a range of Earth observation services and applications.
The first NovaSAR demonstration satellite will be built by UK-based company Surrey Satellite Technology Limited with a payload provided by Airbus Defence and Space UK.
Published 1 May 2014