Case study
Hundreds of homes complete at Devon's sustainable new community
Hundreds of people are living at one of England's most significant housing and employment schemes 3 years after building started.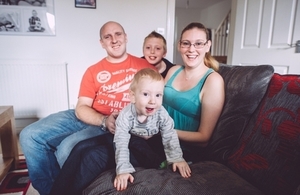 Investment from the government has unlocked a hugely successful phase of housebuilding and development at Cranbrook in East Devon, where partners are working to create a sustainable new community of 6,500 homes and a similar number of jobs.
More than 800 new homes, a community centre and school teaching more than 300 pupils have been completed at Cranbrook and it is expected that around 1,000 houses will be ready for occupation at the start of 2015.
This is a shining example of how developments can benefit communities by providing much needed new homes and support economic growth by attracting further investment and jobs.
The majority of people moving to Cranbrook are from Devon and families are taking well to life in their new surroundings.
James and Georgia Brand moved to their 3 bedroomed home in Cranbrook with their 2 sons, aged 9 and 1, this year after living in a small flat in Exeter for nearly a decade. They have taken advantage of a shared ownership initiative operated by housing provider DCH which has allowed them to buy part of the property with an option to buy a greater share in the future.
James, who works split shifts at an aerospace company in nearby Sowton, said:
We came to an information day at Cranbrook to have a look around and weren't thinking about living here initially, but when we saw what was here we decided to go for it.

The boys are doing really well here, the bills are more affordable and the house is much better for us than where we were living. We work different hours, which isn't always easy; having a more suitable home for the family does make this a lot easier.

There are a few people I work with who are thinking of moving here and I have encouraged them to come and have a look. It's made a big difference to us and I think we will be here for a long time to come.
The Homes and Communities Agency (HCA) has invested more than £16 million in the first phase of affordable housing at Cranbrook and a further £20 million in a new education complex and town centre in the project's second phase, which has played an essential part in speeding up the rate of housebuilding on the site.
HCA executive director for the South and South West Colin Molton said:
Cranbrook is an amazing success story and a testament to the commitment that partners have shown to get all the elements in place to make this the successful project that it is. It took years to get to the stage where building work was able to start, but investment in vital infrastructure such as the school and the town centre has helped to maintain momentum and support the growth of new homes in Exeter and East Devon.
Quick facts
The development of Cranbrook will create 6,000 new homes, schools, social and community buildings, sports facilities and retail provision; a country park and a railway station.
Residents at Cranbrook and businesses on nearby Skypark Business Park are served by an energy centre supplying them with heat and hot water.
Government investment of £20 million has accelerated the pace of development by helping to increase the number of homes built from 300 to 500 a year. It will also create up to 500 construction related jobs as development gathers pace.
Published 19 November 2014