Case study
Helping south Hampshire's economy take off: Solent Enterprise Zone at Daedalus
A transformation is taking place at a former air base in south Hampshire earmarked for significant new development and new jobs.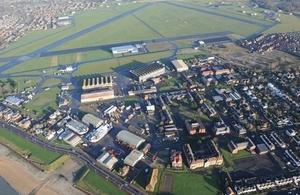 A transformation is taking place at a former air base in south Hampshire earmarked by government for significant new development, investment and thousands of new jobs.
Located on the south coast at Lee-on-the-Solent, the Solent Enterprise Zone at Daedalus is the area's largest employment site and offers a huge opportunity for long-term economic growth. This includes providing high-skilled manufacturing and technology jobs focusing on the marine and aerospace sectors, alongside new homes and leisure, recreational and educational facilities.
It is one of 24 enterprise zones set up by government to create tens of thousands of jobs across England. By 2026, it is estimated that 3,500 jobs will be created on the Solent Enterprise Zone, turning the area into a destination of choice for advanced manufacturing and technology businesses, especially within the marine, aerospace and aviation sectors. Such a significant development would help address the loss of skilled jobs in the area, following the recent closure of manufacturing plants such as Ford in Southampton and BAE Systems in Portsmouth.
Since taking ownership of the site in 2011, following its transfer from SEEDA, the former regional development agency, the Homes and Communities Agency (HCA) has played a central role in developing the enterprise zone.
Achievements include
Gaining planning consent to create more than 1 million sq ft of development and provide space for new business, homes, a hotel and community facilities.
An £8.3 million package to deliver an innovation centre and upgrade the airfield. The innovation centre is being promoted by Fareham Borough Council and is under construction. Resurfacing the main runway is due to start in autumn 2014.
Fareham College's new £12 million Advanced Engineering Skills Training Centre is under construction and will open to students in autumn 2014. Road work is underway to create a new main gateway to the enterprise zone. Work is also underway to Newgate Lane immediately south of Fareham town centre to improve the access to the enterprise zone. A new road access from Gosport Road is now open.
At one key development area, Daedalus East, work to create new plots is underway financed by a loan from the Solent Local Enterprise Partnership's (LEP) Growing Places Fund, Section 106 contributions and payment to road infrastructure by Hampshire County Council. These plots will shortly be home to a number of expanding companies.
Quick facts
The aim is to create around 3,500 jobs by 2026. Current development projects are expected to create around 750 jobs.
The enterprise zone is led by the Solent LEP, Fareham and Gosport Borough Councils, Hampshire County Council and the Homes and Communities Agency (HCA), which has owned the site since 2011, when it transferred from former regional development agency SEEDA.
The HCA has already invested £13 million in the Solent Enterprise Zone to support various site acquisitions and legal, planning and infrastructure work to get development under way. By March 2015, the HCA expects to have invested £31 million in the project.
Resources
Published 4 September 2014