Case study
Disaster Monitoring Constellation (DMC)
A network of satellites that provide detailed images of Earth to assist relief efforts and ultimately to save lives.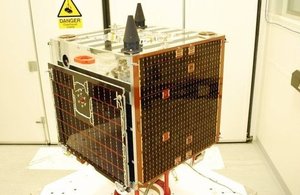 The DMC is:
an ongoing operation
a constellation of five satellites
The satellites have been built in the UK by Surrey Satellite Technology Limited (SSTL). They are owned by the UK (UK DMC-2), China (Beijing-1), Spain (Deimos-1) and Nigeria (NigeriaSat-2 and NigerSat-X).
The satellites have been placed in a constellation that allows daily imaging of any given point on the globe. For most of the time the satellites are deployed by their owner nations to monitor such things as land use, water supply or agriculture. However, the DMC operates within the International Charter: Space and Major Disasters and when disaster strikes, the charter can be activated by the UN or national agencies to pull together information from a whole range of satellites.
The international response for the group of DMC satellites is co-ordinated by SSTL subsidiary company, DMC International Imaging(DMCii). DMCii combines satellite images with other sources of information to produce maps to support relief teams on the ground or at sea.
Since becoming a member of the International Charter at the end of 2005, the DMC has been used to provide images for dozens of situations including:
the cyclone that devastated burma (2008)
the floods affecting northern and south-west England (2007)
Iran, Kashmir and Columbia following earthquakes (2004-2007)
New Orleans in the aftermath of Hurricane Katrina (2005)
Mission facts
Satellites have a relatively limited lifespan and SSTL continues to develop new DMC satellites. UK DMC-2 and the Spanish Deimos-1 have improved cameras, enhanced memory and faster communications. The new technology should enable images and maps to be delivered more rapidly to rescue workers on the ground.
SSTL's NigeriaSat-2 and NigeriaSat-X satellites were successfully launched on the 17 August 2011 at 07:12:20 UTC onboard a Dnepr rocket from Yasny in southern Russia.
The highly advanced Earth observation satellites will significantly boost African capabilities for natural resource management, as well as aid disaster relief through the Disaster Monitoring Constellation.
Each of the new DMC satellites is capable of taking continuous images over thousands of kilometres.
Technology
The DMC satellites were designed and built to a standard design at relatively low cost (much cheaper than conventional Earth Observation satellites).
The satellites are typically the size of a domestic washing machine The satellites are designed to capture images from a large area while highlighting useful details. UK involvement
The satellites were designed by SSTL and built and commissioned with the active involvement of the countries that now own and operate them.
The UK-DMC contract was awarded to SSTL in 2000 by BNSC (now UK Space Agency) using a grant from the Microsatellite Applications in Collaboration programme (MOSAIC).
Visit the International Charter for space and major disasters website.
Published 29 April 2014