Case study
Developing a scalable EO peatland assessment service
Using Earth observation tools to reduce the cost of operations, assessment, restoring and monitoring of peatland.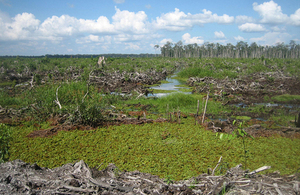 Healthy and Intact peatlands act as a huge store and sink of atmospheric carbon, as well as a source of drinking water, and an important habitat for many plants and animals. However, the quality of peatlands has been degraded over many years from drainage, landscape conversion and other anthropogenic disturbances. With rising levels of dissolved organic carbon (DOC) in water running, water utilities are under increasing pressure to deliver on a safe drinking water supply to consumers as well as the ecological, social and economic benefits of maintaining healthy peatlands. Scottish Water are seeking methods to improve efficiency of water treatment across its catchments through upstream catchment management that maximises the effectiveness of its limited resources.
This project aims to scale, enhance and commercialise an EO-derived tool to allow the project end-user (Scottish Water) and other organisations that have an interest in peatland, both in Scotland and internationally, to reduce their operational costs in assessing, restoring and monitoring peat within catchments of interest for multiple benefits e.g. for water utilities, to improve water quality and in doing so reduce the costs associated with water treatment works.
Rezatec will derive peatland integrity and water quality risk data products using innovative techniques, primarily based on open access data from the European Space Agency's (ESA) Sentinel EO sensors, specifically in the optical, infrared, thermal and microwave domains. Specifically, these data products will include:
Aspects of peatland soils, i.e. the distribution and depth of organic soil and soil moisture
The abundance and distribution of positive and negative floristic indicators of typical peatland hydrology and associated measures of vegetation stress
Identification of anthropogenic disturbances, i.e. ditching, forestry and grazing.
When integrated, these data products will enable synoptic, landscape-level assessments to identify hotspots of peatland degradation and disturbance. It will help prioritise degradation hotspots where restoration would be most cost effective for the water treatment process.
The project builds upon Phase 1 of the SSGP project to map, measure and monitor peatland integrity across Scottish Water catchments. This project is due to finish in March 2017.
Published 24 October 2016