Case study
Applications: precision plant health, response and evaluation
Using space applications to monitor plant health, response and evaluation through earth observation data.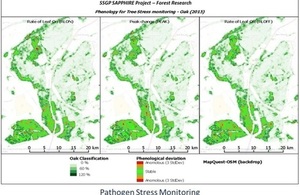 In Phase 1, Rezatec worked with the government organisation Forest Research (FR), to explore the feasibility of differentiating tree species of interest and their typical annual phenological pattern. The effort focussed on mapping the distribution of different broadleaved species within selected study sites, afflicted with newly introduced forest pests. Rezatec utilised various Earth Observation sensors (e.g. Sentinel 1 C-band SAR, Sentinel 2 multi-spectral sensor, Landsat 8 Operational Land Imager) to map the distribution and abundance of these species. These EO data sets were complemented with ground-based data collection and accessory data sets (e.g. LiDAR, National Forest Inventory) and the data was integrated into data mining approaches including statistical clustering methods and classification post-processing algorithms.
In their Phase 2 project, due to end in March 2017, Rezatec will create a productised, market ready, demonstrator to identify and classify an expanded set of tree species of interest and their typical annual phenological pattern with specific focus on:
Identifying limiting issues with optical capabilities and applying SAR (used in Phase 1) to help address the challenges of the more obscure species and also addressing linear features like trees lining infrastructure
Tree stress: validating stress against known scenarios and discounting them against false positives. Identifying natural stress (versus an additional factor) will save time and cost to the end user community
Employing Sentinel 1 data sets to demonstrate the effective capability of SAR data in monitoring tree phenology, with standard EO multi-spectral imagery being used to complement the SAR imagery via data fusion techniques.
Published 24 October 2016