Case study
Adam - I knew I had to get out before it was too late
From:

Part of:

Published:

17 September 2013
Darrin from Think Forward, an initiative commissioned by the DWP's Innovation Fund, helped Adam get out of a gang and back in to school.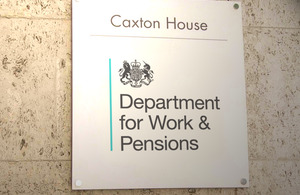 When Adam was just four, his father was sent to prison for a drugs-related murder, leaving Adam's mother to raise him and his two brothers by herself. Getting a job wasn't an option for her, so the family scraped by on benefits, facing constant threats of eviction.
Growing up in Hackney there's always gangs around, you've got to watch where you go – a couple of my friends have died from being in the wrong area and stuff. I thought if I was on the streets and I hadn't got a gang to hang around with, I wouldn't be safe.
When Adam was 14 he became involved in a local gang; starting fights, mugging younger children, stealing phones and occasionally assisting in dealing drugs. His school noticed that his work was suffering, and his behaviour was getting worse.
I used to get sent out of lessons, excluded, just for rudeness… constant bad behaviour, swearing… not doing work and stuff like that. Not co-operating at all.
That's when Darrin from Think Forward got involved. Think Forward is an initiative that was commissioned by the DWP's Innovation Fund. It was backed by the Private Equity Foundation in 2010 after its research showed that early coaching support could dramatically reduce the number of young people not in education, employment or training. Darrin works as a Progression Manager, coaching young people between the ages of 14 and 19.
When I first met Darrin, I just saw it as a way to get out of school. We started talking more and more every time we met, and we built up a friendship. I trusted him and finally told him that I was in a gang and he helped me.

He explained what could happen to me. He had a friend, just like me, doing every crime I'd been doing. He'd no life at all - couldn't get a job, he'd got no teeth, his clothes were in tatters. I didn't want to be like by the time I was 25. I knew I had to get out before it was too late.
The main challenge to Progression Managers is to raise the aspirations of teenagers who have grown up facing a lack of opportunities and successful role models.
It's about building up their confidence, building up their self-esteem, getting them to have a bit of self-worth and giving them an opportunity to shine and letting them see they've got a talent somewhere – everyone's got a talent. If it's not academic it might be something to do with using their hands or construction or something like that.
As well as conducting one-to-one sessions and workshops on employability, life skills, and trust building, Darrin works with Brokerage CityLink to arrange visits to businesses in the City of London. The banks and law firms in the City help them to find out about the world of work and what kind of things employers are looking for. They also find out about different jobs in the City - a lot of them think it's just bankers and don't understand there are other jobs too.
With the support of Think Forward, and Darrin, Adam was able to leave the gang confident that his security lay in the prospect of a stable job in the future.
I'm predicted to pass or higher in all my subjects and I feel much more positive about my future. I'm behaving myself and have changed my attitude to school and the teachers. I've applied for a couple of sixth forms and colleges. If I don't go to college I'll get an apprenticeship and I'll get a good enough job to help my mum out.
Document information
Published: 17 September 2013