Foreign travel advice
Italy
COVID-19 Exceptional Travel Advisory Notice
As countries respond to the COVID-19 pandemic, including travel and border restrictions, the FCO advises British nationals against all but essential international travel. Any country or area may restrict travel without notice. If you live in the UK and are currently travelling abroad, you are strongly advised to return now, where and while there are still commercial routes available. Many airlines are suspending flights and many airports are closing, preventing flights from leaving.
Summary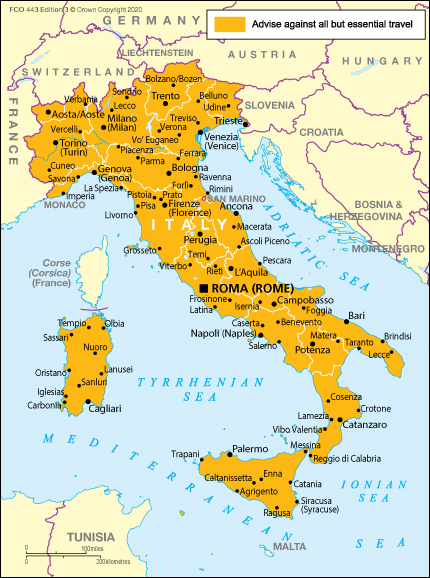 The Foreign and Commonwealth Office (FCO) advise against all but essential travel to Italy, due to the ongoing coronavirus (COVID-19) pandemic and in line with various controls and restrictions imposed by the Italian authorities.
If you're in Italy and wish to leave, you're advised to contact your travel operator to make arrangements to do so as soon as possible. For full information, see Coronavirus and Return to the UK
On 5 March 2020, Flybe announced that it had ceased operations and all its flights have been cancelled. For more information, see the Flybe travel alert. If you were due to travel with Flybe, read the UK Civil Aviation Authority's advice to UK consumers for more information on how your travel plans may be affected and the steps you should take.
The UK has left the European Union. The rules on travel in the EU will stay the same until 31 December 2020 while the UK and EU negotiate additional arrangements. This page will be updated with country-specific information for travellers to Italy as things change. Sign up for email alerts and view the latest updates for UK nationals travelling to and living in Europe.
Approximately 3 million British nationals visit Italy every year. Most visits are trouble-free.
If you're living in or moving to Italy, visit our Living in Italy guide in addition to this travel advice.
If you're visiting a ski resort, take advice on weather and avalanche conditions before you travel and familiarise yourself with local skiing laws and regulations. For more information about the avalanche risk, visit the European Avalanche Warning Service website. See Safety and security
High waters known as "acqua alta" are a common occurrence in Venice during the winter months and can cause flooding in parts of the city. See Flooding
Forest fires are a risk during the extended summer months. See Forest fires
Demonstrations may occur with little or no warning in cities. You should avoid any protests, political gatherings, or marches.
Terrorist attacks in Italy can't be ruled out. See Terrorism
If you need to contact the emergency services, call 112 (police), 118 (ambulance) or 115 (fire).
If you're abroad and you need emergency help from the UK government, contact the nearest British embassy, consulate or high commission.
You should take out comprehensive travel and medical insurance before you travel. For information on the European Health Insurance Card, see Health