The Military Aviation Authority is responsible for the regulation, assurance and enforcement of the defence air operating and technical domains.
---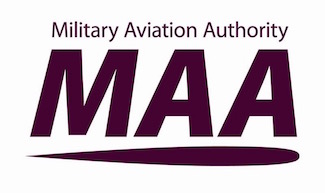 Privacy Notice
On 25th May 2018 the General Data Protection Regulation came into effect and MOD, including the MAA, are required to comply with its requirements. The standards which individuals can expect when we ask for, hold or share their personal information are contained in the MOD Personal Information Charter. Our lawful basis for processing any personal data is that it is necessary for the performance of our task as the Military Aviation Authority for the Defence Aviation Environment including our regulatory responsibilities which we carry out in the public interest, in the exercise of official authority vested in the MAA or to comply with legal obligations to which we are subject.
What we do
Part of the Defence Safety Authority (DSA), the MAA is responsible for the regulation, assurance and enforcement of the defence air operating and technical domains. It ensures the safe design and use of military air systems.
Purpose
To enhance operational capability by delivering effective Air Safety regulation while fostering good practice and appropriate culture across the Defence Air Environment.
Vision
To be the world leading Air Safety Regulator.
Who we are
As the single regulatory authority responsible for regulating all aspects of air safety across defence, the MAA has full oversight of all defence aviation activity. Through independent audit and continuous surveillance of military aviation, the MAA aims to provide the Secretary of State for Defence (SofS), through Director General DSA (DG DSA), the necessary assurance that appropriate standards of air safety are maintained in providing operational capability.
The DSA was established by Charter, signed by SofS, to be responsible for all defence safety regulators. The MAA draws the authority to discharge its regulatory role by a Letter of Delegation issued by DG DSA. DG DSA is the primary convening authority for all safety related accidents.
The MAA was established in 2010 in response to the recommendations made by Mr Justice Haddon-Cave in his Nimrod Review, which called for a radical overhaul of military airworthiness regulation.
Our management
The MAA is led by a 2* Director (D MAA). D MAA is supported by a 2* Director (Technical), and they collectively form the MAA Executive providing strategic direction.
The organisation consists of the following areas:
regulatory services delivery groups provide end-to-end regulations and certification, and oversight and approvals across the defence air environment
an operating assurance group undertakes risk-based assurance assessments of military air system operators and associated organizations (the regulated community) to ensure compliance with current regulations. Exploitation of feedback determines the level of risk to life held against those particular operators and organizations. High risk entities attract greater scrutiny, the requirement for which drives future MAA assurance activity
an international engagement and recognition division which liaises with foreign national military and civilian aviation authorities and organizations enabling read-across of foreign approvals and vice versa

the enabling services function provides a range of support services to the Executive team and the broader MAA; it comprises a number of smaller, interlinked teams:

business compliance
futures, development and strategy
command planning
finance
legal services
air safety training (internal skills training and external air safety courses for the regulated community)
Related information
Corporate information
Access our information
Jobs and contracts