News story
UK welcomes President Santos for Colombia state visit
President of Colombia to begin Colombia's first ever state visit to the UK.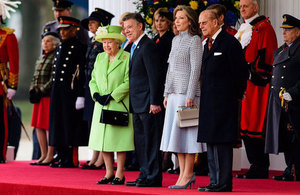 The President of Colombia, Juan Manuel Santos de Calderon, will begin Colombia's first ever state visit to the UK on Tuesday 1 November, as an official guest of Her Majesty The Queen.
On Tuesday, The Queen and The Duke of Edinburgh will formally welcome President Santos at the Royal Pavilion on Horse Guards Parade with the Prime Minister, the Foreign Secretary and the Home Secretary in attendance.
On Wednesday, the Prime Minister will host the President at 10 Downing Street for a working lunch, and the President will also attend events at Mansion House, the Natural History Museum and the London School of Economics. The Foreign Secretary will take the President on a private tour of the Cabinet War Rooms. To mark the occasion of the state visit, the London Eye will be lit up in yellow, blue and red – the colours of the Colombian flag – on the evenings of Tuesday 1st and Wednesday 2nd November.
The Foreign Secretary, Boris Johnson, said:
We are delighted to welcome President Santos to the UK. Britain works hand-in-hand with Colombia on the world stage whenever the occasion demands.

We have an important national interest in the security and prosperity of Colombia, and we look forward to forging new links in science, education and research, while reinforcing the traditional friendship between our two peoples through increased tourism.

Colombia is on the verge of a historic peace agreement and through our ongoing support for the country the UK is well-placed to take advantage of the opportunities that will follow. We will continue to support President Santos and the people of Colombia as they work to secure lasting peace.

As we leave the EU, Britain remains a bold and outward-looking nation, and we are forging a new global role and taking advantage of economic and diplomatic opportunities in the wider world, beyond Europe.

Colombia holds huge potential for British investors in areas ranging from health care to transport, defence and energy, and I hope that the state visit will help to open up these opportunities.
The President, who has been leading Colombia's peace process, will travel to Belfast on Thursday to hear first-hand about Northern Ireland's experience of peace-building, and the benefits that peace and political progress has brought for community relations and efforts to build a stronger economy.
The UK has strong ties with Colombia and a longstanding relationship built over more than 200 years. The 2 countries work closely on a range of issues, including trade and investment, security, defence, and climate change. Trade between Colombia and the UK was worth £1 billion last year, and continues to grow.
The UK also works closely with Colombia's law enforcement agencies to tackle the threat of drug trafficking and serious organised crime – issues that affect people in the UK too.
Colombia is emerging from the longest-running internal conflict in the Western hemisphere. The UK has played a central role in supporting Colombia's peace process. Peace will benefit not only Colombia and the surrounding region, but will create opportunities to further expand the bilateral relationship between Colombia and the UK.
President Santos recently received the Nobel Peace Prize, recognizing his continued efforts to secure peace.
He will be accompanied during the visit by his wife, Maria Clemencia Rodriguez de Santos.
Summary
PM and President Santos' press statement
Peace and reconciliation
The UK will increase its contribution to prosperity programmes in Colombia by up to £25 million, supporting economic development and opening up investment and export opportunities worth in the region of £6 billion to the UK economy.
In addition, a further £7.5 million from the government's Conflict, Security and Stability Fund (CSSF) will be allocated to support the Colombian peace process, with £2.5 million dedicated specifically to support demining through the United Nations Trust Fund. Demining is crucial for releasing land into productive use and to clear up the remains of conflict.
Trade and Investment
Government investing up to £1 billion to support trade and development in Colombia as new partnerships open in oil and gas sector.
item 1 state visit by Colombian President sees new partnerships in oil and gas sector
item 2 government's export credit agency will provide up to £1 billion in support for UK trade with Colombia to support rural and post-conflict projects
item 3 Department for International Trade (DIT) to host series of business events to facilitate trade in important sectors
Tax cooperation
The governments of the United Kingdom and Colombia have signed a double taxation agreement (DTA).
Eliminating this risk of double taxation will give greater certainty to employees and businesses operating between the UK and Colombia over what taxes they pay and where. The agreement will reduce the barriers to cross-border trade and investment, as well as promote growth and jobs. The DTA also includes provisions which will help both countries work together to tackle tax avoidance and evasion.
Bioeconomy
A new £20 million bioeconomy research programme, responsible for developing new drugs, medicines, biofertilisers and pollution tackling products.
The Colombia Bio programme, supported through The Newton-Caldas fund, is a joint partnership between the UK and Colombia worth £8 million each year, and will address the development challenges of Colombia. The fund has aided closer bilateral relations between the 2 countries, addressing post- conflict development issues in isolated regions throughout Colombia.
Strategic partnership between Northern Ireland and Colombia
New UK government funding for a UK-Colombia strategic partnership to share expertise on peace-building. The partnership between Northern Ireland Co-operation Overseas (NI-CO) and the Colombian governments will focus on education and policing reform and strengthening existing links between Northern Ireland and Colombia.
UK troops to provide further support to Colombia
Michael Fallon welcomed his Colombian counterpart Luis Carlos Villegas Echeverri to the Ministry of Defence today, where they discussed how UK forces provide training and expertise in Colombia.
Defence Secretary Michael Fallon said:
"Colombia is a key partner in Latin America and it is vital we continue to provide first rate assistance as Colombia works towards a domestic peace deal. By helping our partners to a more stable future, we help to make Britain itself safer and more secure at home."
Joint declaration
The President of the Republic of Colombia, Juan Manuel Santos, and the Prime Minister of the United Kingdom, the Rt. Hon Theresa May MP, adopted a joint declaration during the Colombian State Visit in November 2016.
The declaration sets out UK-Colombia collaboration in peace building, prosperity, trade and investment, security and justice, education, science and sustainable development.
Speeches and press releases
Further information
Published 30 October 2016
Last updated 4 November 2016
+ show all updates
summary updated.
President of Colombia to begin Colombia's first ever state visit to the UK.
First published.