News story
Prime Minister's visit to Bahrain and the Gulf Co-operation Council
The Prime Minister met the leaders of the Gulf States to forge a stronger partnership with them focussed on security and prosperity.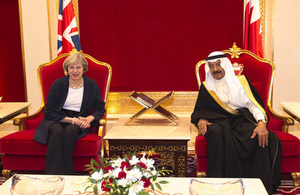 Prime Minister Theresa May attended the annual meeting of leaders from the Gulf Co-operation Council. She was the first British Prime Minister and only the third Western leader to be invited to attend and address leaders at the summit.
On her 2-day visit to Bahrain, the Prime Minister sought to open a new chapter in relations between the UK and the Gulf States, which include Saudi Arabia, Kuwait, the United Arab Emirates, Qatar, Bahrain, and Oman. She renewed centuries-old ties and forge a stronger partnership focussed on security and prosperity with the UK's third largest export market.
The Prime Minister's visit follows on from more than 40 bilateral meetings with international leaders in the 5 months since she took office, underlining her commitment to personally ensuring that the UK forges a bold, outward-looking role in the world as we leave the European Union.
Gulf Co-operation Council: key documents
Announcements
Prime Minister speaks about her visit
PM talks to Royal Navy personnel on her first full day in Bahrain
Prime Minister speaking to Royal Navy personnel on HMS Ocean
Read the Prime Minister's full speech to the HMS Ocean crew.
PM discusses working with the Gulf Co-operation Council and Gulf leaders
Prime Minister speaks about working with Gulf state leaders
PM speaks to young Bahraini leaders
Published 5 December 2016