News story
Nick Clegg: India visit
The Deputy Prime Minister led a trade delegation on a visit to India from 25 to 27 August 2014.
The Deputy Prime Minister led the first major trade mission to India since Prime Minister Narendra Modi was elected in May. Ed Davey, Secretary of State for Energy and Climate Change, and Lord Dholakia, the Deputy Prime Minister's India Business Adviser, also joined the delegation.
News and updates
For the latest updates, follow us on Twitter at #UKIndia and via the following accounts:
View photos on Flickr and a Storify showing highlights of the visit.
Press releases (most recent first)
Visit overview by day
Bangalore: 27 August
The Deputy Prime Minister visited Bangalore to open a new Tech Hub and UK Indian Business Centre. The Business Centre - the second to be opened in India - provides support to UK businesses who want to grow in India. The Tech Hub aims to grow 1,000 Bangalore start-ups in 3 years and link them with the UK. He also toured the Airbus Bangalore facility, where India teams link up with teams in the UK to run simulation tests on aircraft parts, and visited the Hawk manufacturing facility at the aircraft division of Hindustan Aeronautics Limited.
Nick Clegg launched the first base in India for Sheffield company Group Rhodes. The new facility is expected to create 50 to 60 new UK jobs and 60 jobs in India. Finally, he announced that UK firms Pattonair and Renishaw will be opening a permanent Bangalore office and a metal 3D printing centre in Pune respectively.
Mumbai: 26 August
The Deputy Prime Minister visited St Xavier's college to talk to young people about educational ties between UK and India. He announced a variety of measures, including a new exchange programme for young people and a new award recognising those who have helped improve ties between UK and India.
He also visited Globe Mill Passage Municipal School to see a new educational programme in action. The programme, developed by non-governmental organisation Muktangan, helps to boost educational prospects for disadvantaged students. Finally, he operated the clapperboard on the first shot of new Bollywood film Veda, as the production company, Vistaar, announced a new investment of £13 million in the UK.
Delhi: 25 August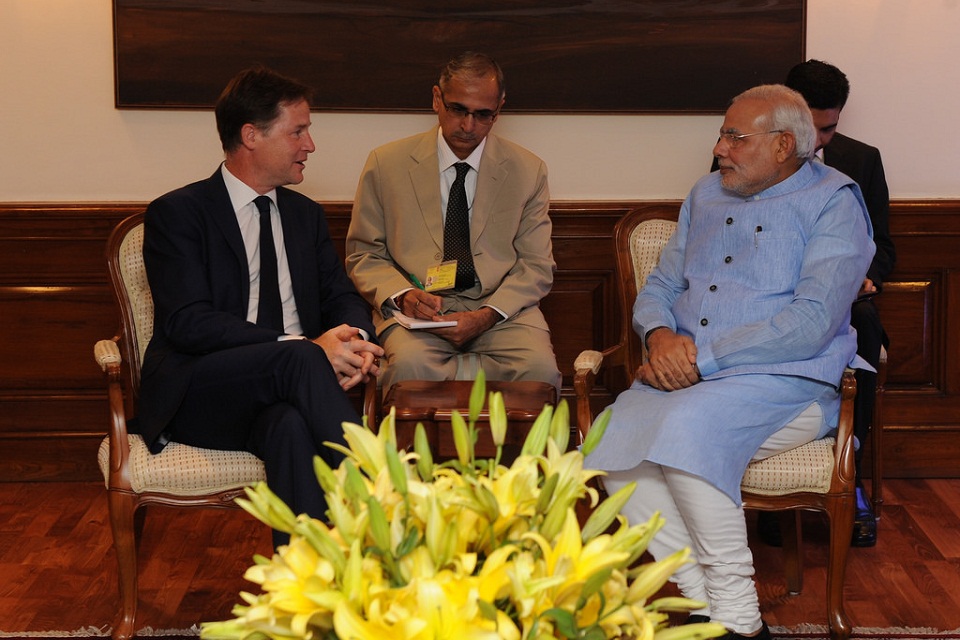 The Deputy Prime Minister met Prime Minister Modi to discuss education, business, climate change and economic growth. He also met Arun Jaitley, India's Finance Minister and Defence Minister. He delivered a speech at the GREAT Business Conference, and spoke to students at the University of Delhi about the cultural links between UK and India. In the evening he held a GREAT reception showcasing British products. Find out about companies that have signed a trade deal with India.
Nick Clegg also paid his respects to heroes of World War I and II, laying a wreath at the Amar Jawan Jyoti at India Gate, and visited the Gurudwara Bangla Sahib.
Priorities for the visit
The Deputy Prime Minister's main priorities for the visit were to:
About the delegation
The delegation included major British brands from 3 sectors:
aerospace
retail
higher education
The delegation was organised by UK Trade and Investment (UKTI), the government department that helps UK-based companies succeed in the global economy. It also helps overseas companies bring their high quality investment to the UK's economy. UKTI offers expertise and contacts through its extensive network of specialists in the UK, and in British embassies and other diplomatic offices around the world. It provides companies with the tools they need to be competitive on the world stage. Read more about the delegation.
Published 25 August 2014
Last updated 27 August 2014
+ show all updates
Added links and details of Bangalore visit.
Updated News section and added links to recent press releases.
Added updates on the Deputy Prime Minister's visit with PM Modi and GREAT Business Conference speech.
First published.