Press release
British brands sign trade deals with India
On his visit to India, Deputy Prime Minister Nick Clegg sees a number of British brands, including Lush and Pavers Shoes, sign UK-India trade deals.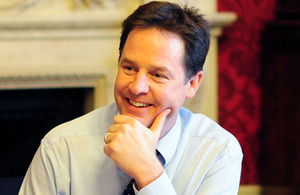 Iconic British brands are flocking to India to take advantage of booming growth and ever increasing spending power. The retail sector in India is currently worth £309 billion, with growth of 25% a year expected by 2016. British companies including United Biscuits, Lush Cosmetics and Pavers Shoes are taking advantage of India's growth with new ventures being announced today.
Announcements being made during the visit include:
Lush Cosmetics, the iconic brand from the British high street, is expected to open its first shop in India after receiving approval from India's Ministry of Commerce. The shop in Mumbai would give the company an initial foothold in the country.
United Biscuits Group, the world's fourth-largest biscuit manufacturer, to increase investment in its India operation from £30 million to £50 million. This will build on the success of iconic British brands including Hobnobs and Digestives in India.
Pavers Shoes, based in York, are set to invest £10 million in India, expanding from 35 to 100 stores. Pavers is listed on Europe's Forum 500 list of the UK's fast growing and most profitable retailers.
Chaucer Foods, based in Hull, has signed a deal with an Indian food manufacturer to export 60 tonnes of croutons a year, worth £100,000 a year and increasing their trade with India by 50%.
Fever-Tree, a British manufacturer of premium mixers, has announced that it is going to start exporting Indian tonic water to India. This will be the fiftieth export market for this company, which has been awarded the prestigious Queen's Award for Exports.
The Deputy Prime Minister said:
The opportunities presented by the Indian retail and food and drink sectors are obvious. Travel around India and you'll see more and more British products appearing on the shelves of India's grocery stores. From McVities Digestives to Horlicks and Smirnoff, India's 1.2 billion consumers are increasingly falling in love with British favourites.

With more UK companies eager to repeat that success, this is fantastic news for both our economies. India's food and drink industry is one of the fastest growing sectors in this market. I am delighted to see British companies expanding, and I am glad to see the delegation I am leading helping our great retail sector to make even greater inroads and launching iconic brands globally.
Notes to editors
Key facts on the UK-India relationship
The UK-India relationship is a genuinely 2-way relationship of vital importance to both countries. For instance:
last year the UK invested $3.2 billion in India, more than any other G20 country and more than Japan ($1.7 billion) and the US (just under $1billion), who are ranked second and third respectively, combined
aggregating all investment over the last 14 years, the UK still ranks first among the G20 and accounts for around 10% of all investment into India over this period
India is the seventh largest investor in the UK and invests more in the UK than it invests in the rest of the European Union combined
About the delegation
The delegation was organised by UK Trade and Investment, the government department that helps UK-based companies succeed in the global economy. It also helps overseas companies bring their high quality investment to the UK's economy – acknowledged as Europe's best place from which to succeed in global business. UKTI offers expertise and contacts through its extensive network of specialists in the UK, and in British embassies and other diplomatic offices around the world. It provides companies with the tools they require to be competitive on the world stage.
Published 26 August 2014