'Britain is ready and able to help India build brighter future'
Transcript of a speech by the UK Deputy Prime Minister Nick Clegg at the GREAT Business Conference in New Delhi, Monday 25 August 2014.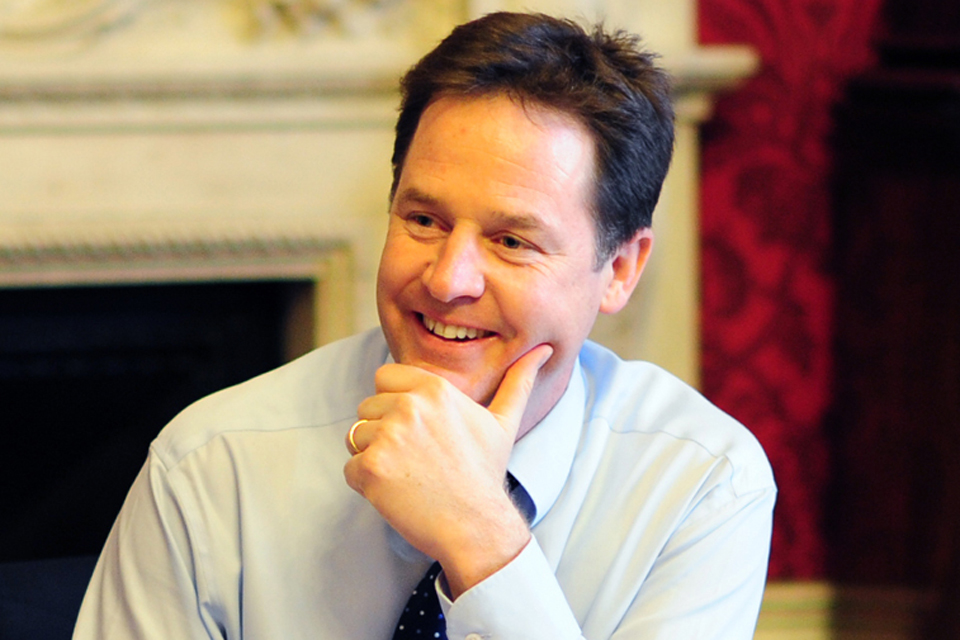 India's drive and energy
Distinguished guests, ladies and gentlemen… Chief Economist of the World Bank, Kaushik Basu has described the hustle and bustle of India as the sound of its economic engine revving.
That energy and drive has transformed this country into one of the world's fastest growing economies. India's ambitions for the future are even bigger, with a new government focused on boosting investment, jobs and growth.
Narendra Modi and BJP's campaign slogan was 'Ache din aanne wale hai' – 'good times are coming'. My message today is that Britain is ready and able to help India build that brighter future.
UK-India Partnership
India needs investment – the UK is already its biggest G20 investor, with plans to do more.
India wants more trade: our bilateral trade is over £16 billion and rising.
India is looking for capital: the City of London is the world's leading financial centre.
India is focused on modernising its infrastructure: the UK has the investment, expertise and experience to make that happen.
Finally, India needs to equip its growing young population with the right skills for the best jobs: the UK has the world-class education sector to help India's government do it.
Why this visit matters
That's why I'm here – leading the first UK trade delegation since the new government here in India was elected.
We want to build on our countries' powerful links to generate more jobs and growth together.
I'm joined by leading UK companies from across high-value sectors important to both our economies – education, aerospace, food and drink, and retail.
They're either established in this market and looking to expand or visiting for the first time to secure the incredible opportunities on offer.
Education
For example, some of the UK's leading universities, colleges and learning providers already have offices in India: attracting thousands of Indian students to the UK every year.
As India works to expand its own education sector, both academically and vocationally, we want to boost those ties – with more student exchanges, joint research projects and learning partnerships.
Today, UK-based education company, Global Education Management for instance signed a valuable new agreement with Amity University to provide vocational training.
Generation-UK India
We want everyone to know that Indian students are warmly welcome in the UK. We also want more UK students to spend time here.
That's why we're launching a our new Generation-UK India Programme – to help 25,000 more British students develop professional and personal links in India that will benefit them their whole lives, creating the business partnerships of the future.
If your business is interested in getting involved, please contact the British Council.
Aerospace
As the leader in the global aerospace industry, the UK can also help India strengthen its lead in this valuable market.
Our aerospace industry – which comprises big names like Rolls Royce, BAE systems, Airbus and Cobham and smaller companies such Group Rhodes, Renishaw and logistics company Patton Air – produces and supplies some of the most pioneering aircraft components in the world.
Half of the world's advanced passenger jets fly with British-made wings. While every 2.5 seconds, an aircraft takes off or lands powered by a Rolls-Royce engine and businesses from across the UK's supply chain are here with me, looking to develop more of these technologies with Indian companies.
Retail
In retail too, we want to grow. In just 2 years time, it's estimated that India's modern retail market will be worth between $175 to 200 billion, growing around 25% every year.
With world-famous high-street and luxury brands such as Paul Smith, Burberry, Hamleys, Debenhams and Body Shop, the UK is uniquely placed to help give India's consumers the innovative, high-quality products they want.
So, I'm pleased to announce today that British shoe company Pavers will be investing £10million in India: increasing the number of its Indian stores from 35 to 100 and creating new jobs both here and in the UK.
Invest in the UK
But this visit isn't just about what UK companies can bring to India. We also want more of India's entrepreneurs to benefit from the UK's open business environment, competitive tax regime and flexible work force.
The UK attracts more Indian investment than the whole of the EU: with many of the India's fastest growing companies – like Tata, Wipro and Infosys working successfully in Britain, generating £19 billion last year.
Our People
In part that's down to the close links that exist between our people. The world's second largest overseas Indian population lives in the UK, generating connections across our societies, and I'm going to be beating the drum throughout this visit for the UK as a leading location for Indian investment.
Good Days are Coming
Every UK business here today wants to work with you. The UK government is committed to helping them: ensuring that together, in the UK and India, we can realise our ambitions for more jobs, growth and a prosperous future. Good days are coming.
Published 25 August 2014