Press release
Nick Clegg meets Prime Minister Modi in New Delhi
The Deputy Prime Minister met Indian PM Modi to discuss trade and climate change as key areas to build the UK-India 'special relationship'.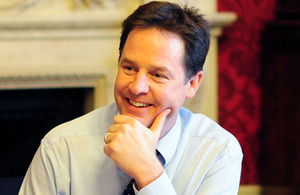 Deputy Prime Minister Nick Clegg and Secretary of State for Energy and Climate Change Ed Davey met Indian Prime Minister Narendra Modi today (25 August) at his official residence, the Panchavati in New Delhi. The meeting took place on the first day of the Deputy Prime Minister's 3-day visit to India with a 40-strong business delegation from the UK.
They discussed a number of issues where there is a natural partnership between the UK and India:
Economic growth
They talked about Prime Minister Modi's ambitious plans for growth, including how the Indian diaspora in the UK is keen to invest more in India and what steps could be taken to help those investments.
Climate change
The discussion focused on how the UK's expertise in innovative climate change technologies could help India become a greener country. In particular, they discussed how the UK would share its experiences of introducing new technologies, policies and incentives through robust climate change legislation. One idea that was discussed was UK assistance on cleaning the Ganges in light of London's successful clean-up of the River Thames.
Education
They talked about further cooperation in an area where India and the UK already have very strong and historic links. Further to improve the benefits of this partnership, they spoke about the prospect of bringing leading teachers from the UK's top institutions to teach in India and the opportunities for cooperation in vocational training.
Business
Finally, they discussed the World Trade Organisation talks and agreed that increased global trade should benefit all sections of society, including the poorest.
The Deputy Prime Minister extended an invitation to Prime Minister Modi to visit the UK in the months ahead.
Notes to editors
The Deputy Prime Minister is leading the first trade mission to India since the new government was elected in May. More details are available on the Nick Clegg: India visit page.

Following today's visit to New Delhi, he will travel to Mumbai tomorrow and Bangalore on Wednesday.
Published 25 August 2014