Press release
New ministerial team at DCMS confirmed
The Department for Culture, Media and Sport (DCMS) has welcomed a number of new ministers, following appointments made by the new Prime Minister Theresa May.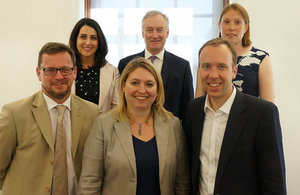 Sports Minister Tracey Crouch and Internet Safety & Security Minister Baroness Shields continue in their roles at the Department.
Karen Bradley, Secretary of State for Culture, Media and Sport, said:
Culture, media and sport are all areas which help to make life richer, drive the economy and promote the UK around the world. The civil society work is an exciting addition to DCMS and fits perfectly with the department's mission to enrich lives.
I'm thrilled to lead DCMS and along with my ministerial team we're committed to making sure these sectors continue to thrive.
The new Culture Secretary Karen Bradley MP joins DCMS from the Home Office, where she was Minister for Preventing Abuse, Exploitation and Crime. As the Secretary of State, she has overall responsibility for strategy and policy across the department.
Matt Hancock MP has been appointed the new Minister of State for Digital and Culture. He joins DCMS from the Cabinet Office, where he was Minister for the Cabinet Office and Paymaster General. He will cover policy areas including the digital economy, broadband, data protection, arts and culture, media and creative industries.
Lord Ashton of Hyde has been appointed DCMS' Parliamentary Under Secretary of State and will represent DCMS in the House of Lords. This follows Baroness Neville-Rolfe's promotion to Minister of State at the Department for Business, Energy and Industrial Strategy.
Rob Wilson MP is also joining DCMS as Minister for Civil Society. He will continue to cover charities and civil society policy areas, which have moved from Cabinet Office to the department. In addition, he will also be responsible for libraries policy.
Tracey Crouch MP remains Parliamentary Under Secretary of State for Sport, Tourism and Heritage, and Baroness Shields will continue her joint role with DCMS and Home Office as Parliamentary Under Secretary of State for Internet Safety and Security.
ENDS
DCMS News and Comms team - 020 7211 2210
Notes for editors
Images of the new Ministers can be found on the DCMS Flickr site.
The Written Ministerial Statement on Machinery of Government change relating to the functions of the Office for Civil Society can be found on the Parliament website.
Full list of new ministerial and government appointments: July 2016
Published 21 July 2016