News story
Local Charities Day – 16 December
Get involved to show your support for charities near you.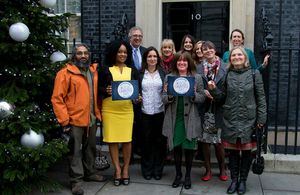 Taking place on 16 December, Local Charities Day will shine a spotlight on the work of small, local charities and community groups across the UK.
Three in four of us give to charity in the average month, and it's estimated that in 2015 we gave around £10 billion to charity. Small charities represent 97% of the charitable sector but they only account for around 20% of its income. Local Charities Day will highlight the brilliant work local charities do, bringing so much benefit to the communities they support.
Minister for Civil Society Rob Wilson
Welcoming the day, Minister for Civil Society Rob Wilson said:
Up and down the country there are people working tirelessly in local charities to improve the lives of those living in our communities. Their commitment and enthusiasm often goes unrecognised and I want us to change that.
Local Charities Day means we can say a collective thank you to these organisations and the unsung heroes whose work is helping to build a society for everyone.
Get involved
On 16 December you can show your support for small, local charities and community groups near you by:
Sharing pictures and messages of support on Facebook and Twitter alongside the #LocalCharitiesDay hashtag.
Adding the #LocalCharitiesDay Twibbon and social media graphics to your channels
Donating £5 to a local charity through the #GiveMe5 campaign which will see 1,000 donations made on Local Charities Day doubled through funding from government and a philanthropist.
Do you volunteer or work for a local charity? Post a short video message about what you do on social media.
Are you a small, local charity looking for fundraising training and advice? Government is funding a range of free training sessions on Local Charities Day. You can sign up to the Foundation for Social Improvement (FSI) and GlobalGiving's training webinars now. The FSI is also running a twitter chat on fundraising between 1-3pm using the #AskTheFundraiser hashtag.
Sign up to the #LocalCharitiesDay Thunderclap
Government support
The Day builds on the support Government is already providing for small, local charities, including:
Helping charities to secure and enhance their services through the Local Sustainability Fund
Incentivising donations through the Grow Your Tenner campaign which is projected to have raised over £1 million for more than 1,300 local charities and community groups
Legislating to simplify the Gift Aid Small Donations Scheme
New investment in fundraising skills of small, local charities
Government will fund a further three years of subsidised fundraising training for small, local charities.
Up to £100,000 per year will be made available to help small, local charities get the fundraising skills, knowledge and confidence they need to raise funds to support their work. This builds on the Small Charities Fundraising Training Programme that ran in 2016.
Funding will be made available through an open competition next year inviting bids to deliver the training. Government also welcomes discussions with other funders interested in growing the size of the programme. Those interested can contact socialaction@cabinetoffice.gov.uk
Read about the work of charities near you on the #LocalCharitiesDay blog.
Published 15 December 2016