Press release
Largest ever UK disaster response for Syria crisis
David Cameron announces £175 million in humanitarian aid for the Syrian crisis.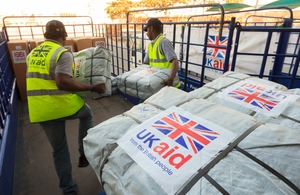 Prime Minister David Cameron today set out the largest single funding commitment ever made by the UK in response to a humanitarian disaster, as he announced a £175 million emergency package for the Syrian crisis.
But the Prime Minister warned that the international community as a whole must now follow this lead. He called for:
aid agencies to be given the unrestricted access they need to save lives in Syria
a reduction in violence and a negotiated solution to the conflict
the international community to follow the UK's lead in committing to and providing long term funding
a clear, UN-led focus on the most vulnerable in this crisis, particularly girls and women
the UN to actively take the lead in planning and setting out a strategic, long-term response
The new funding, which the Prime Minister announced at the G8 summit, is part of a total of almost $1.5 billion in additional contributions agreed by G8 leaders to meet humanitarian needs in Syria and its neighbours. It will help to provide immediate humanitarian assistance to hundreds of thousands of Syrians in desperate need as a result of the ongoing fighting.
Critically, the UK Government will also commit funding over the next two years, beyond the life of the current UN emergency appeal, so aid and development agencies can plan a more strategic response to the protracted crisis, with predictable funding allowing them to forward plan food deliveries and keep clinics open.
Speaking after the announcement, International Development Secretary Justine Greening underlined the Prime Minister's call on the international community to recognise the protracted nature of the Syrian crisis and follow the UK's lead.
Justine Greening said:
An unprecedented disaster requires an unprecedented response. Today's announcement sends a clear signal to the Syrian people and to their neighbours that they can count on the UK's continuing support. But this is the biggest humanitarian crisis of our generation and the international community must act together.
A political solution remains key, but a long-term, co-ordinated international response is now absolutely critical to stabilise the region as it copes with huge refugee flows and to help those in need, whoever and wherever they may be.
The new commitment more than doubles UK funding for Syria to date to £348 million, the largest total sum the UK has ever committed in response to a single humanitarian crisis.
It follows a surge in the fighting and UN predictions that as much as half of Syria's pre-crisis population of 22 million will become refugees before the end of the year.
From the £175 million in new funding announced today, which includes humanitarian and development support:
Over £100 million will be used to respond to the new UN-led appeals launched on 7 June, the largest in the UN's history. This will help to provide food, medical care, shelter, education and other support for those in need inside Syria and in neighbouring countries until the end of 2013.

The UK will particularly focus on the needs of girls and women affected, pressing for strong leadership from the international system on responding to the needs of women and girls.

Additional funding for those providing direct support to Syrians inside and outside Syria, including vulnerable host communities and countries that are hosting refugees.

Support for UN bodies and other humanitarian agencies working both in neighbouring countries and inside Syria to prepare longer term plans to cope with increasing numbers of people in need, steadily failing infrastructure and key services, and growing refugee numbers.
For more information on the G8 Summit and its outcomes:
See also
Notes to editors
Aid agencies are currently constrained by recurring short-term funding cycles that leave them unable to proactively plan for the longer term implications of the crisis. If the international community followed the UK's lead in committing significant funding on a long term basis, this would enable aid agencies to maintain vital basic services such as water and sanitation, health and food security, rather than only providing an emergency response as key services fail.
Alongside increased long-term funding, unfettered access for UN bodies and NGOs remains an absolute priority. The UK has repeatedly called on all parties to the conflict to allow these agencies the access they require in order to get on with providing life-saving assistance to those in need inside Syria.
There are now over four million people displaced inside Syria and over 1.6 million refugees in the region. On Thursday 13 June, new UN figures showed that nearly 93,000 people have been killed in the conflict, over 1,700 of them children under the age of ten.
The UN predicts that by the end of the year 10 million people – half of Syria's pre-crisis population – will be displaced either internally or externally.
Conflict Pool funding in response to the Syria Crisis is not included in these figures.
Since DFID was established, the largest humanitarian response to date has been a total of £200m in new funding to the recent Horn of Africa Crisis, while the response to the Pakistan floods was £134 million and £140 million in emergency humanitarian and development support for the Indian Ocean tsunami on Boxing Day 2004.
Published 18 June 2013
Last updated 6 August 2013
+ show all updates
Updated Humanitarian factsheet add (5 Aug 2013 update)
First published.