News story
Background: G8 2013
The UK assumed the one-year Presidency of the G8 in January 2013. This is a rundown of announcements that led up to the Summit on 17-18 June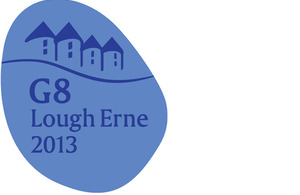 On 20 November, David Cameron announced that as the Chair of the G8, the UK would host the G8 Summit in Lough Erne, Northern Ireland. This announcement was a demonstration that Northern Ireland is a modern and dynamic part of the United Kingdom that is open for business, with huge potential for investment and tourism.
The Prime Minister also wrote in the Huffington Post where he set out the three key elements of the G8 agenda – to advance trade, ensure tax compliance and promote greater transparency.
At the start of the year, the PM wrote to his fellow G8 leaders to outline his plans for the G8 Presidency, where he hoped that the G8 commitment to open economies, open governments and open societies would support enterprise and deliver economic growth.
On January 24, he set out the economic priorities for the G8 at the World Economic Forum in Davos, where he spoke in more detail of the G8 agenda on tax, trade and transparency.
An open letter to Herman Van Rompuy, President of the European Council on 26 April set out the the need for radical global action to tackle tax evasion and aggressive tax avoidance.
This was followed on 20 May by a letter explaining the UK's efforts to promote greater tax compliance and an end to company secrecy.
In an article for the Wall Street Journal, the Prime Minister spoke in more detail of the importance of freer trade, and the enormous benefit it can bring globally. He also stressed the need for financial openness, fairer taxes and greater transparency alongside more open trade.
Published 11 June 2013